According to the book, Colditz--The Definitive History: The Untold Story of World War II's Great Escapes, a group of British pilots in the Colditz prisoner camp were in that exact same situation. The boys gathered together some of the gelatin they had as rations, put the map face up on a wooden tray and poured the Jell-O (lemon-flavored) over them. They then took the Jell-O and pressed it on a sheet of clear greaseproof paper.
It worked. They were able to make 30 copies of the map and enjoyed a tasty meal of lemon-flavored Jell-O because the British were clever, smart and have no taste buds.
Could MacGyver Have Done it Better?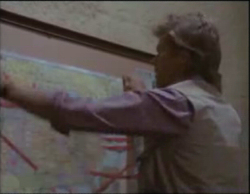 According to MacGyver, a map "can get you in and out of places a lot of different ways" other than just getting yourself from point A to point B. As this video clearly shows, a map can help you unlock doors, distract women in burkas and beat an armed guard senseless:
If the video ran just a little bit longer, MacGyver also could have showed you how a map can help you break up with your pregnant girlfriend, pay off your student loans and establish a Palestinian state. So, yes, while the Jell-O thing was impressive, with 30 copies of a map we're thinking MacGyver could have ended the war.