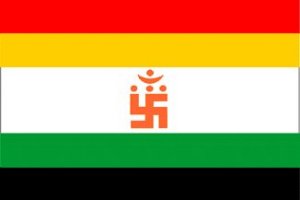 Meaning:
Each color represents a group who has done more than just drop some coins in the Jain Salvation Army pot. Monks, teachers of scripture, souls who have transcended the material world--they all get their own happy stripe. The three dots remind one of the "jewels" of Jainism: faith, knowledge and good behavior. If a man asks you to "embrace the jewels," make sure he's a Jain before answering. Or at least attractive.
Drawbacks:
* Just one. Can you pick it out? Let's face it, you could have the greatest flag ever, but a couple decades of putzes with armbands and your 1,000-year legacy is tainted forever. Even the transcendent souls must find themselves sweating when a B'nai B'rith tour bus pulls into the village. Sorry, entire religion of Jainism: your swastika is lovely, but ... you know.
Motto inspired by flag:
"Heil, mein f,hrerwalla!"