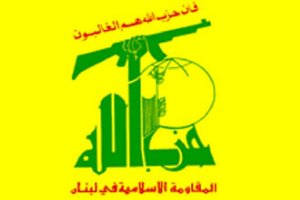 Meaning:
Hard to parse the subtlety. As if the red Arabic slogans weren't enough to loosen the bowels of western governments, the letters of "Allah" morph into a hand holding an AK-47. Wow. Was the dead Jew too difficult to draw?
Drawbacks:
* Once again, try and spot the flaw, just to the left of the arm. They'll tell you it's a minaret, they'll tell you it's a Katyusha rocket, but let's be honest. Besides screaming "Party of God," this flag screams, "Behold the mighty cock that will ream the west."
* The gun is higher than the leafy branch, suggesting Hezbollah values violence over ... over ...okay, why did they include the erection? I mean, you can't not see it. Are they trying to court gay radicals? Is there pressure from GLAAD Beirut?
Motto inspired by flag:
"Jizzbollah."