Roy Orbison
Then the Next Big Thing came along, the
Nintendo Entertainment System
in 1986. It was a radical departure from the blocky 2600, to the point that the experience was novel once again. Games had actual worlds to travel in, and you could save your games from one day to the next. Playing these games didn't just look different; they
felt
different.
Space Invaders
was a series of symbols on a screen you manipulated for a score,
Legend of Zelda
was an actual universe you could escape to.
And yet, even with the enormous number of games (
Metroid
delayed my discovering girls for a for a good 18 months), the gaming experience itself still couldn't keep our interest for more than a few years. Attention waned again, but this time new, fancier systems arrived just in time, offering a new and novel experience thanks to prettier graphics and character animation. And yet those systems (the
Sega Genesis
and later the
SNES
), as great as they were, eventually were retired to closets and attics and the sandy carpets of the Pakistani black market.
It was a bitter, dark cloud of Japanese expletives that wafted from the meeting rooms at Nintendo and Sega when they realized their industry effectively lived under a curse. Gaming was not an everlasting, deep well of joy for the audience. No, the only way to keep them playing was to distract them with novelty, to roll out a new machine every five years, spending half a billion dollars in development each time, moving from colored blocks to 2D figures to cartoonish 3D to realistic 3D.
Which brings us to today. We've now advanced from realistic 3D to slightly prettier 3D and... even slightlier prettier 3D with
slightly better reflection effects
and
slightly better animated water ripples
and - oh, look! This game has
the most realistic fog yet!
See the problem?
What does an art form that relies on novelty do when it can no longer offer up anything novel? Think I'm crazy? Would you call
Nintendo's Hiroshi Yamauchi
crazy?
Okay, you would, but in between strapping kleenex boxes to his feet and wearing a giant raw squid as a hat, the 114 year-old console gaming guru spoke wisdom. And he believed
gaming has hit the wall
as far as graphics go.
You don't have to be a tech geek to get this. Check out the rather startling difference between the
Atari 2600
title
Jet Goblins Attack
from 1980 and
The Legend of Zelda
just seven years later: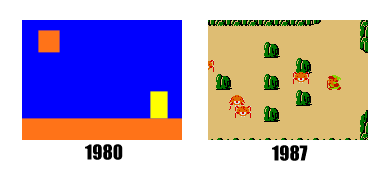 The yellow block in the first screen is Batman.
Now compare
Goldeneye
(1997) to
Red Faction 2
(2004). Same seven-year span: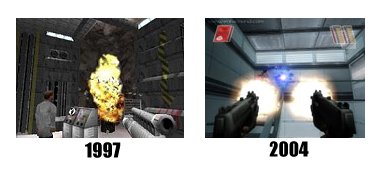 Some prettier flame effects, but it's hardly enough to be a new experience.
2. Don't you know the new consoles are 1,000 times more powerful than the current ones, you flaming volcano of idiocy?
Okay. Let's throw the XBox 360's
Quake 4
into the mix:
The walls show rust and shadow better, and maybe blood sprays a little differently... but you don't have anywhere near the leap from the Atari's little blocky shapes to the NES's ability to actually display little human characters, or the jump from flat 2D SNES games to the wide-open 3D landscape of
Mario 64
. With each successful new generation there was a real difference, not just in how the game looked, but in the gaming experience itself.
The current generation was novel because it introduced the world to adult games. The
Grand Theft Auto
series carried the PS2, with the ability to abuse prostitutes in ways that Mario only did off-camera. You had cursing in the cutscenes, you had games a 28 year-old man felt cool playing for the very first time.
But now Sony is asking us to pay $600 for the
PS3
, a machine that really needs a $2,000 television to work, on the promise that it will
"...be able to simulate cloth and fluid"
like never before.
It's true, the PS3 launch games seem to be able to simulate some phat-ass cloth and fluid... but how much difference was there in the actual gaming experience?
Gears of War
for the 360 is beautiful to look at but nobody is claiming it's a truly different - or novel - experience than other shooters on the market; it's more a refinement of the genre than a reinvention of it. And history says in the world of gaming, that isn't enough.
The Nintendo Wii maybe has the right idea, introducing a controller that you flip around with your wrists instead of pushing buttons. Their thinking is you can engage gamers by translating their actual body movements into the game world. It looked like a primitive, gimmicky attempt on a cheap, underpowered machine... but that little bit of novelty
has lead the Wii to dominate sales
.