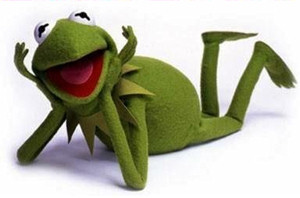 Actually, no we won't. It's definitely gay sex.
Real-world gay counterpart:

Anderson Cooper. Cooper doesn't admit he's gay in the same way that Michael Jackson doesn't admit he's ever had plastic surgery. Beyond their closeted status, Cooper and Kermit are good matches because they're both beloved, and Kermit played a likable news reporter on Sesame Street. Also, couldn't you just see Miss Piggy-incarnate Nancy Grace obliviously throwing herself at Cooper at the CNN Christmas party?