The comic:
Comic book Judge Dredd was an abstract figure, a Dirty Harry-esque symbol that allowed his (British) creators to lampoon and analyze totalitarianism, fascism, complex legal issues and ironically dissect the archetypal violent American action hero.
The movie:
Stallone, famous for roles where he beats people unconscious and kills them with hunting knives, predictably focused more on the "archetypal violent American action hero" part, and left out the irony.
The character in the comic is never unmasked (emphasizing the "abstract figure" thing) but, when producers are paying $10 million to get Sylvester Stallone in their movie, they're going to want to see that piercing gaze and gorgeous saggy lip of his in all its glory, so the mask came off. That gives you an idea that this was no a Judge Dredd movie and was in fact a Sylvester Stallone movie.
Why did they change it?
In 1995, the ratio of Sylvester Stallone fans to Judge Dredd comic fans was about 1 million to 0. So, Judge Dredd simply became a costume for Sly to wear.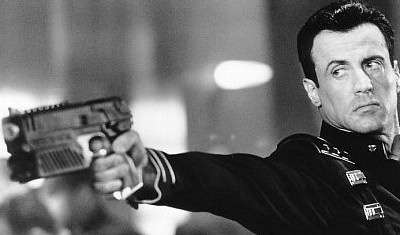 Did it work?
Judge Dredd's original comic, 2000 AD, and his huge catalog of subsequent comic series, spinoffs and trade paperbacks are complex and influential enough that he's still brought up in Britain during debates about issues like police states and rule of law. In America, Judge Dredd is usually only brought up when you and your roommates are bored on a Wednesday night and keen to invent a new drinking game. Here's a good one: Drink every time Dredd says, "How do you plead?" "I knew you'd say that" or screeches the word "law" while spit flies from his distended mouth. You'll all be getting your stomachs pumped within 20 minutes.
The story behind the comics, as it turns out, doesn't work after you strip out every element except for the name of the character. The movie cost $90 million to make and grossed $35 million in the United States.