Screenshot by Mortal Wombat
Oh, hell yeah.

Give the Chinese control of one army and the United States control of the other, and we'll fight all of our wars this way. Nobody gets hurt except the millions of neglected girlfriends.




Total Kung Fu
Wii


This is for all of us who secretly think those Dance Dance Revolution style rhythm games look like fun but fear they'll threaten our sexuality.

Total Kung Fu has the same frantic, spastic stepping and flailing as DDR ...





... only instead of dance moves, your movements are translated to vicious, bone-crunching kicks and punches.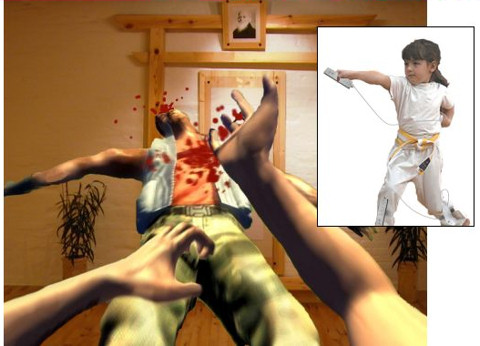 We're talking lightning-fast blurred fists, '70s kung fu movie-style fighting where punching and blocking is done with the same desperate, heart-pounding frenzy it takes to keep up with the beat in the harder levels of DDR. You wouldn't even need a floor pad, just an extra Wiimote and nunchuck to strap to your ankles.

Also: Online Multiplayer. Yes, it's tough to do for a rapid-fire twitch fighting game. But this is 2010, Nintendo. Figure it out.




Hard Cell
360/PS3


Ah, who can forget the first time we directed the guy on the screen to walk across a narrow catwalk suspended over lava, only to have the guy turn to the screen and say, "Eat my fuckmeat, muchacho! In case you didn't know, lava is hot."

Hard Cell is a third-person game where you control an avatar that isn't particularly happy about being controlled. You can see the character and you can give him commands, but he doesn't necessarily agree with your goal.

Doing a good job of not getting your character hurt or killed will make him happier, filling your "Rapport Meter." Filling the meter makes him faster, more responsive, and overall more willing to work with you rather than against you. But lead him into dead ends, forget to take time to find food, fail to look out for his safety ...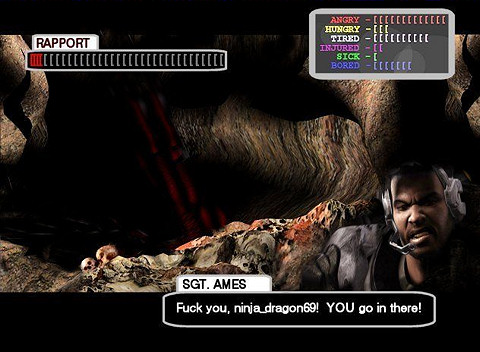 Screenshot by eddie_lummox
... and things get ugly.

You're working with a deep (that is, well-written) and complex character, operating from the most advanced A.I. ever to appear in a game. You'll build trust, you'll become friends.

Which you'll think is great, until the end of the game when you find out you have to sacrifice his life to win. This is an hours-long affair during which he will lie bleeding on the floor, screaming "WHY, DAVID? WHY?!?!?" over and over again at the screen. Did I mention that the guy knows your name?




Whipping Boy
Wii


Here's the secret of the Wii. In the markets where Wii Sports isn't included as a pack-in game, and you have to buy it separately, it still outsells Zelda: Twilight Princess. Why?

It's the boxing. Punching something with your actual fist wrapped around the Wiimote is enormously satisfying. It taps into something primal, releases those violence endorphins that fuel all mankind. Hell, even in tennis, the satisfying THOCK! from the Wiimote speaker when the racket smacks the ball, plus the rumble jolting your hand with the impact ... you can just feel the frustrations of the day lifting through the soothing salve of simple violence.

So you take Wii Sports Boxing, add in the most detailed character creation system the hardware can handle (after all, wrestling games have been perfecting this for years). Let me create the exact replica of my old boss, or my neighbor who kicked my dog, whoever. Their voices, too, we'll have a huge range of sound clips and accents to pick from so they sound almost like the real life counterpart. And then, we beat the shit out of them.

The Wi-Fi connection will let gamers somehow download and trade whipping boys, borrowing from people who have made perfect Tom Cruise or George Bush dummies. They can even download user-created custom weapons to beat them with ...