Trump Discontinued Medical Coverage For His Own Disabled Nephew
Bob Luckey/Stamford Advocate
When Donald Trump paraded his five children from three different wives in front of America, he was hoping we'd all see a family man underneath the shitshow facade we're used to getting from him. In fact, Trump is so concerned about the well-being of children everywhere that he's made affordable childcare a centerpiece of his campaign. There's one kid you shouldn't ask about how Trump actually feels about children, however -- his nephew with cerebral palsy. Oh wait, you can't, for legal reasons.
Bob Luckey/Stamford Advocate
Seen here with his father, a rare creature known as "Trump With Empathy."
Let's back up. Donald Trump had a big brother who died at the young age of 43 in 1981. Freddy Trump wasn't as into real estate as his little brother or dad, and by the time he died, he had a reputation as an alcoholic, which some people think is why Donald himself is a vigorous teetotaler -- he watched his big brother destroy himself with booze. Before Freddy died, he got married and had two kids, Mary and Fred III. Those two kids grew up, got married (not to each other), started their own families, and moved on with life.
Then something weird happened. Somewhere along the way, Donald Trump's father decided to exclude his dead alcoholic son's heirs from his will. So when Fred Trump Sr. died in 1999, the millions of dollars he left behind were divided among Donald and his two living siblings -- everyone in Freddy's family was cut out of the inheritance. Specifically, Donald Trump helped his father draft a will which divided "at least $20 million, among his children and their descendants, 'other than my son Fred C. Trump Jr.'"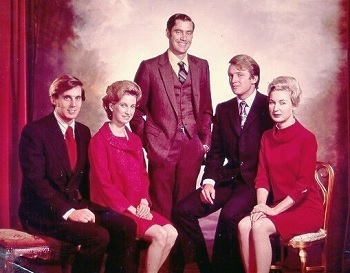 Donald Trump Campaign
To be fair, if you were forced into an old-man combover since your 20s, you'd lash out at others too.
Now, we know what people will do for a fiver to buy a pack of smokes. Imagine what people will do for their cut of a multi-million-dollar windfall. Now imagine what those people would do if they had a newborn child who had just been diagnosed with cerebral palsy -- which is exactly what had happened to Fred III. Fred and his sister sued the family for their share of the estate, because who wouldn't? Their grandfather was a 93-year-old man who suffered from Alzheimer's, and the whole will seemed fishy. When Donald Trump found out his nephew was suing over the will, he did something amazing. He cut off his nephew's baby son's medical benefits, claiming he "was angry because they sued."
Larry Busacca/Getty Images
Because there's nothing Donald Trump hates more than frivolous, wasteful, and unnecessary lawsuits.
At this point, it's hard to not imagine Uncle Donald as Donald Duck having a temper tantrum, but the kind of temper tantrum that could maybe kill a living, breathing child. Eventually, Uncle Donald and Freddy's kids settled up, and it looks like Donald's nephew is well-provided-for and doing fine. Still, who cuts off medical care for a disabled baby out of anger?
Trump Chronically Used Tragedy As An Opportunity To Brag About Himself
Chris Hondros/Getty Images
Not only did Trump use his father's death to further his children's finances, but he also used that very funeral to further his brand, because of course he did. Rather than speaking about his fond memories of his father, or even finally letting loose all his pent-up childhood angst, Trump told a room full of grieving friends and family all about how his father had always believed in him. Which sounds sweet -- the bond of father and son and all that -- but Trump took it even farther than that. Trump made sure everyone knew how many times HE, Donald Trump, had beaten the odds. Other family members shared warm memories of the guy who built the family fortune. Trump's eulogy to his father included a mention of the New York Times article on his latest hotel.
Barton Silverman / New York Times
"Husband. Entrepreneur. Donald-maker."
The Trump family aren't the only victims of Donald's callousness. You might recognize September 11, 2001 as the date the World Trade Center towers collapsed. It's also the day Trump took to network television to remind the world that his building was now the tallest, making a quick jab about the building's temporary status as second-tallest before the attack on the Twin Towers.
The interview continued, with Trump being asked what he would do in such a situation if he were president -- which is crazy relevant and kind of terrifying to think about, given his nasty reaction at the time. The interviewer chalked this up to "Trump being Trump," which seems like a rather quaint way to gloss over an incredibly narcissistic reaction to the deaths of thousands of people by fire and suffocation. If "boys will be boys" is now antiquated, "Trump being Trump" sure as hell doesn't cover it.