Admittedly, we've all wanted to do something simply because we saw an attractive person do it on a big screen (and we're not just talking about porn here). Who doesn't want to go out and buy a bunch of suits and whiskey after an episode of Mad Men, or learn martial arts because of Jason Bourne, or act like a total dick for no reason thanks to The Walking Dead?
Some people, however, get a little carried away and end up recreating entire crazy-ass schemes straight out of movies or TV shows -- only to be foiled by a little thing called "reality." For instance ...
A Drug Dealer Goes Full

Scooby-Doo

Villain, But His Rubber Mask Doesn't Fool The Police
Warner Bros. Animation
We all remember the moment that comes at the end of every Scooby-Doo episode. Those pot-addled beatniks sober up long enough to realize that the monster they've been chasing is some guy they met earlier wearing a shitty rubber mask. The villain is unmasked, and laments that he would have gotten away with it if it wasn't for those nosy little shits.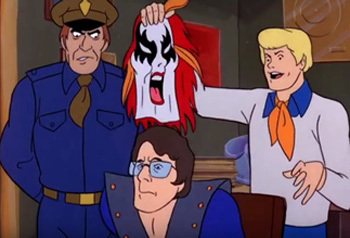 Warner Bros. Animation
Who could forget the time Michael Caine posed as Gene Simmons?
But outside of cartoons, no one ever uses weird rubber masks to try to fool law enforcement -- until last month, that is. A man indicted on drug trafficking charges, Shizz Miller (who was presumably arrested for drug trafficking after police simply rounded up everyone named "Shizz"), was cornered by police at his residence. Since building a jetpack and flying away would have been too expensive, Shizz did the next-best thing: He slapped on an old man mask and strolled past the cops, barely stopping short of offering them hard candy and complaining about ethnic teenagers.
Bureau of Alcohol, Tobacco, Firearms and Explosives
Bureau of Alcohol, Tobacco, Firearms and Explosives
The cops congratulated him for his Emmy nomination for Better Call Saul.
Of course, since the accused looked less like a human being and more like if Future Biff's life hit the skids, the police soon caught on and promptly arrested him. The cops did praise the "Hollywood quality" of the mask, though -- presumably because the only movie these officers ever saw was Clint Eastwood's J. Edgar.
Yup, it seems that in order for a rubber mask to truly fool someone for more than a minute, they really need to be a bunch of teenagers who've stumbled out of a hot-boxed van while talking to their Great Dane like it's stringing together sentences.
A Father Stages An

Arrested Development

-Style Ruse To Teach His Kids A Lesson, And The Kids Jump Out A Window
20th Television
Before Arrested Development had the most underwhelming resurrection since Jesus decided to bum around in a cave instead of kicking some Roman ass, the show was known for its wealth of hilarious running gags. For instance, Bluth family patriarch George Sr. was constantly teaching lessons to his children through elaborate ruses. These usually involved a one-armed man who would stage dangerous accidents -- thus burning a lesson into the kids' brains with the fire of a good childhood trauma.
20th Television
While also giving credence to the fan theory that George Bluth was behind the death of Harrison Ford's wife.
Amazingly, a real-life dad seemingly took a page out of the George Bluth book of parental responsibility and orchestrated an elaborate con to teach his kids a lesson about stranger danger. He hired a buddy of his to show up at their house when he knew that his 14- and 16-year-old sons would be alone. The younger of the two kids let the stranger into the house -- at which point, you would assume the dad would pop out of the bushes, explain that they shouldn't let strangers in the house, and take everybody out for ice cream.
After being let into the house, the stranger started ranting about how their dad owed him money, yelling about "chopping up bodies in here" while mentioning that he "just got out of jail two weeks ago." That's some efficient backstory exposition right there.
WJW TV
"Congratulations?"
Understandably, the kids got freaked out. They locked themselves in an upstairs bedroom, climbed out the window, jumped to the ground, and ran to a neighbor's house to call 911. Luckily, the worst injury suffered was only a scrapped knee and not, say, whatever injury you get from falling out of a goddamn window.
When the police arrived, they tried to explain to the father that he had endangered his kids with his reckless plan, but according to the cops, he "wasn't hearing it." The dad further commented that the actions of his kids were an "epic fail." The police then somehow restrained themselves from pointing out that using the passe term "epic fail" was in and of itself the most epic of fails. If the lesson was to teach the kids that their dad was an unfeeling piece of shit, mission accomplished. If it wasn't, well, he blue it.