Sure, big studios can make great games: They have money to throw at multiplayer features, killer graphics, celebrity voice actors, etc. But you know what the little guys have that all of their big studio money could never buy? Madness. Here are just a few indie developers who spent years of their lives, sometimes toiling single-handedly, just to bring us a video game adaptation we never wanted and, frankly, are still unsure about.
The Dystopian Adventure RPG Starring Charles Barkley
Tales of Games Studios
Barkley Shut Up And Jam is a 1993 game for NES, Atari, and Genesis that most people have forgotten about. We guarantee you Charles Barkley did. But not Tales of Game's Studios (crazy apostrophe intentional). In 2008, they made an unofficial sequel for PC called Barkley, Shut Up And Jam: Gaiden, which merges basketball action with ... old-school Japanese RPGs. Of course!
Tales of Games Studios
Featuring Tyrone Hill.
The game is set in a dystopian 2053. Basketball is outlawed after Charles Barkley accidentally dunked so hard that it destroyed New York City, killing 15 million people. That is not our joke description. That's actually the plot of the game. For some reason, Michael Jordan is the enforcer who hunts down and kills rogue basketball players -- because it takes a jammer to catch a jammer?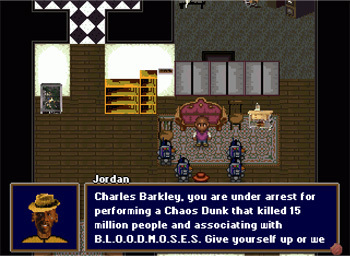 Tales of Games Studios
MJ's terrible fashion sense is the most accurate thing in the game.
You play as Barkley, on an epic quest to clear his name and restore balance to the game of basketball. Of course, you don't confront your enemies with fireballs and laser attacks; you harness the arcane power of basketball to vanquish your foes.
Tales of Games Studios
This is worth playing just to see what the "Ghost Muscle" is.
As the game advances, you team up with other basketball legends such as Vince Carter, who has since become "Vinceborg 2050."
Tales of Games Studios
"B.L.O.O.D.M.O.S.E.S. was kind enough to let me keep half of my teeth."
At one point, you even teleport to the fabled basketball dimension, where sportscaster Dick Vitale gives you mission instructions.
Tales of Games Studios
"Today's interdimensional travel report is brought to you by State Farm."
See, this is exactly what we were talking about: Never in a million years would you have imagined wanting this, but now you know about it and your life feels emptier for every moment you spend away from it. Here, go. Be whole again.
The Great Gatsby: The Game

Lets You Explore The Great American Novel In NES Form
Charlie Hoey
In love with both gaming and classic American literature? Who isn't! Your bookshelf overflows with first edition Hemingways and dog-eared Nintendo Powers, but you've never before found a way to merge your two passions. Well, The Great Gatsby: The Game is for you! Finally, F. Scott Fitzgerald's classic indictment of Jazz Age America and its culture of hedonism is available as an action platformer.
Charlie Hoey
Any copies of the book printed after this was made are just an arrogant waste of natural resources as far as we're concerned.
You play as Nick Carraway, the book's narrator, adventuring through various key locations of the Roaring '20s, all the while battling waiters and flapper dancers -- just like in the novel?
Charlie Hoey
And stealing Gatsby's floating money.
At the end of each level, you fight a boss inspired by the novel's symbolic themes. For example, at one point the famous eyes of T.J. Eckleburg's billboard, which represent the God of corporate America, come alive and blast your ass with lasers. Just like the novel:
Charlie Hoey
And during the final stage, Nick Carraway does battle with the literal ghosts of World War I on the beach.
Charlie Hoey
That crab perished in the Battle of The Somme.
It is, without a doubt, the finest literary platformer ever produced. Well, at least until Square Enix's long-awaited adaptation of Infinite Jest comes out.