We're not here to tell you what to believe, but let's face it: when it comes to religion, most of us weren't exactly presented a smorgasbord of choices. Most of us grow up either believing what our parents believed and maybe angrily believing the opposite once we hit college ("Mom, don't you understand those are your Thetans talking?"). But if you look around, you'll find the world offers a rich array of surprisingly popular alternatives for those looking to, well, think outside the box. And we're not talking about tinfoil hat meetings or Kirk Cameron's fan club - there are religions around the world with hundreds of thousands of followers which we can almost guarantee you know nothing about, if you've even heard of them at all.
Eastern Lightning Is The Largest Doomsday Cult In The World, And China Wants To Destroy It
Mongol / Wiki Commons
As the years have gone by, tons of people have claimed to be the reincarnation of Jesus Christ, to wildly varying levels of personal success. Among them are Jim Jones, David Koresh, Charles Manson, and Kanye West. Another is a modern-day Chinese woman named Yang Xiangbin, aka Lightning Deng. Her lover founded the Chinese religious sect Almighty God, popularly known as Eastern Lightning, before fleeing with her to New York City's Chinatown once the sect became officially outlawed.
China Public Security Bureau
Looks like Jesus is a fan of the Eleventh Doctor.
Among other things, Eastern Lightning believes that the end of the world is super nigh. This wouldn't necessarily be a problem, except that if you don't agree with them, they will beat the crap out of you until you do. While most religions send out missionaries with pamphlets, Eastern Lightning offers potential converts presents like smartphones. If the ability to play Pokemon Go AND make phone calls still isn't enough to convince them, the church will straight-up kidnap people and torture them, and in some cases kill them. They have also kidnapped leaders of rival churches -- up to 33 in 2002 alone.
The Chinese government, which isn't big on religion in general, hates Eastern Lightning in particular. It included them on a list of 14 religions that were outright banned, and in 2012 arrested over 1,000 of the estimated 700,000 to 1,000,000 adherents for causing panic and riots with their end-of-the-world talk. To make sure everyone got the point, they also posted notices calling Eastern Lightning "a social cancer and a plague on humankind." Considering one follower beat a woman to death in a McDonald's for not giving him her phone number, and then said it was fine because God told him to, they probably have a point.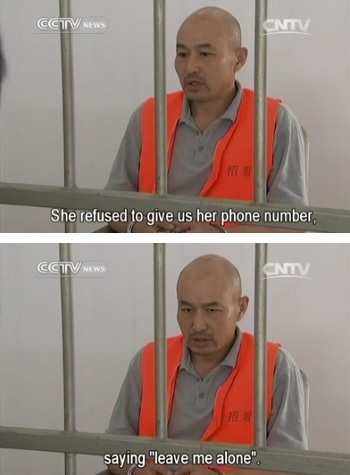 China Central Television
It remains unclear which God would tell you to go to McDonald's.
Cao Dai Believes All Religions Are Correct
Thomas Schoch / Wiki Commons
Imagine a Justice League for all the religions. About a hundred years ago, a Vietnamese civil servant named Ngo Van Chieu conducted a similar thought experiment, and he came up with a super-religion called Cao Dai. And to be perfectly honest, it sounds kind of awesome.
According to Chieu's vision, God has spoken to mankind in two different eras so far: first through Judaism and Hinduism (simultaneously), then again through Christianity, Buddhism, Confucianism, and Taoism (again, all at once). Apparently, God invented precisely the right formats for each culture to get his message. The new religion, Cao Dai, would be God's third and final communication. And because God wasn't lying with all those other faiths, Cao Dai incorporated pieces of all of them into its theology. Fair enough.
Ernie Lo
Also, God is an all-seeing planet that looks kinda like a Death Star.
Here's where things get weird: Vietnam was run by France in those days, and France, like the U.S. and Britain, was caught up in talking to ghosts via seances. So this new religion emerged at a time when regular people were throwing parties to speak to dead relatives and celebrities. Among the dead people who kept sending messages to the new faith were Joan of Arc, Confucius, William Shakespeare, Julius Caesar, and ... French novelist Victor Hugo. There were a LOT of messages from Victor Hugo. So many, in fact, that Hugo ended up a saint in Cao Dai, and got a snazzy captain's hat in a painting in their temple.
Xavier ROSSI / Gamma-Rapho / GettyImages
"Disney fucked up my Hunchback story. Deliver them a plague of Home On The Range."
Depending on who you ask, there are around five million Cao Daists practicing their faith around the world today. They seem very peaceful -- just don't ask what they think about Russell Crowe's "singing" in Les Miserables.