When moving to a new city, there are a lot things to consider. Is there a good school system? What's the crime situation? How far is it to the nearest grocery store? Which type of natural phenomenon is most likely to kill me? Sure, they may not always put it in the brochures, but plenty of towns and cities have their own regional vintage of apocalypse. For example ...
An Australian Town Becomes Spiderville Thanks To Flooding
Reuters
Australia is a place where humans have accepted that they're back on the menu. With so many natural predators, it almost feels like every Aussie animal evolved to savor the taste of British exile blood. But while sharks and crocodiles are content to eat whatever Dundee trips into their turf, other species are more ambitious when it comes to claiming territory.
Like spiders.
Millions and millions of goddamn spiders.
Mark Debono/ABC News
"But there's nothing wrong with this nice winter scene. It's just a bunch of ... oh dear god."
When the Murrumbidgee river in New South Wales started flooding, towns like Wagga Wagga evacuated most residents. However, they weren't the only ones with a contingency plan. In a process called "ballooning," the crab spider uses long strands of its silky webs to travel through the air like a screaming, eight-legged Phileas Fogg. They set out on this airborne journey when they mature and start to feel stifled by the tens of thousands of siblings they have to compete with. So when a flood threatened the habitat of several of these spidey clans, they all strapped on their self-made parachutes and migrated to wherever the current took them. Which turned out to be Wagga Wagga.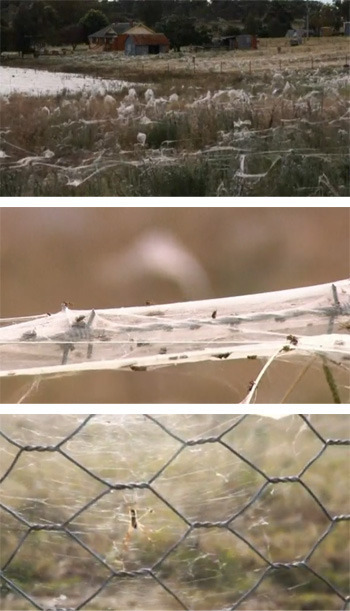 Reuters
Waggaaaarghh Waggaaaaarrrgggghhhhh!
And on May 4, 2015, the remaining residents of New South Wales woke up to find millions of crab spiders paratrooping into their village. Before long, entire villages were covered in spider webs so massive that they looked like they were designed to catch dinosaurs. But if spiders can mummify entire villages, how come we're not all speaking arachnid?
Luckily, these crab spiders are one of few Australian arachnids that can't kill someone just by looking at them. The younglings can't even break the skin with their bites. Like any adolescents, their nuisance was mainly TPing a bunch of houses and loitering around outside in large groups. Still, we have to salute Australians for their casual reaction of slight annoyance to this phenomenon. Most other people who see a cloud of spiders rain down on them would probably burn the country to the ground and try again elsewhere.
Daniel Munoz/Reuters
At which point the spiders would evolve and assume their final form.
Speaking of ...
Dublin Was Nearly Burnt Down By A Flaming River Of Whiskey
Illustrated London News
Of all places, Ireland would probably be the least surprised if whiskey started streaming through the streets like it was part of the natural environment. The only thing they would have to worry about would be the biggest collective hangover since the day before. But in 1875, Dubliners found out that the national spirit could damage more than their livers when an actual river of the good stuff came rushing through their city, setting everything on fire.
Illustrated London News
"It's not Irish until you add some whiskey to the mix."
Right after 8 p.m. on June 18, 1875, people noticed flames in one area of town. The cause was quickly ascertained, as 1,800 barrels' worth of flaming whiskey came pouring through the city. Onlookers compared it to a stream of lava -- if, instead of killing you, drinking lava would make you sing sailor songs and cheat on your wife. The single-malt stream set fire to everything it touched and left people fleeing for their lives. Kind of. A healthy amount of Dubliners didn't want to waste the free booze, so even while fleeing, some people couldn't help trying to "capture the precious liquid before it went to waste" in anything they could, including hats and boots.
via Come Here To Me
"Is that the whiskey boot or the pee boot?"
"There's no time to answer that!"
At first, firefighters tried to put it out with water, but mixing whiskey and water only made it worse (looking at you, lightweights), and the fire spread even faster. Fortunately, like every other city in the 1800s, Dublin had literal shitloads of manure lying around, which they used to build dams to stop the fire from moving through the streets, halting the streams enough for the fire brigade to douse them. It wasn't until the day after that things had calmed enough for people to return to their homes and assess the damage. The "Great Whiskey Fire" was one of Dublin's most destructive blazes ever. Still, the police and fire departments were praised for their amazing response time -- it was almost as if they had arrived at the river of booze before anyone had reported that it was on fire. Amazingly, not a single Dubliner died from the fire or smoke. Thirteen of them did die from chugging burning gutter whiskey, though, which remained poisonous even in the hardened stomachs of 19th-Century Irish alcoholics.