On screen, we're used to seeing beautiful people lead impossibly exciting lives -- but once the cameras stop rolling, those actors return to the same boring existence as everyone else (give or take a few Cadillacs). Well, some stars didn't get the memo. Here are the ones whose off-screen antics were even more unbelievable than anything in their movies:
The Bad Guy From

Ghostbusters II

Was Absolutely Terrifying
Columbia Pictures
Ghostbusters II is one of the few movies out there in which the bad guy is technically a painting. In the film, the Ghostbusters use their essential equipment (we mean their penises, obviously) to fight an old painting possessed by the soul of a 16th-century tyrant named Vigo the Carpathian. This happy camper:
Columbia Pictures
If you looked inside his mind, you'd see nothing but the YouTube comments
on the 2016 Ghostbusters trailer.
There are two things you should know about that painting: 1) It's not actually a painting; it's a photo made to look like one, and 2) this movie's casting people did their job a little too well, because the guy in that photo was even scarier than his character.
German actor Wilhelm von Homburg (born under the slightly less intimidating name of Norbert Grupe) first became famous as a sports figure in the '60s, when he was known as "The Beatle Boxer" due to his boyish good looks and scandalously long hair. Even back then, he was creepy as hell. In a 1969 interview, Homburg stopped answering the journalist's questions and just stared at him for minutes, with a faint smile that said "I am strangling you with your own intestines in my mind right now."
Homburg was also part of a wrestling tag team with his former-Nazi-soldier father ... which is kinda shocking, because this was after, according to his father, Homburg raped his stepmother. He was never arrested for that, but he did do five years in prison on charges related to drug dealing and prostitution. Hollywood is the land of opportunity, though, and Homburg's career was resuscitated in the '80s when he was cast as "German terrorist blown up by John McClane" in the first Die Hard. This led to parts in other movies, like Ghostbusters II, where Homburg's rough German accent was replaced with Max von Sydow's comparatively suave voice. They wanted to creep out the audience, not traumatize them.
By 2004, Homburg had drunk, snorted, and whored his showbiz money away, and he died destitute and alone. Hopefully there were no paintings in the general vicinity.
The

Walking Dead

Cast Rescue Children In Their Spare Time
AMC Studios
When actress Laurie Holden's Walking Dead character, Andrea, was (OLD SPOILERS AHEAD) unexpectedly killed off at the end of Season 3, Holden suddenly found herself with some free time. And how do you top killing zombies in front of 10 million people every week? You start using your talents to take down their moral real-life equivalent: sex traffickers.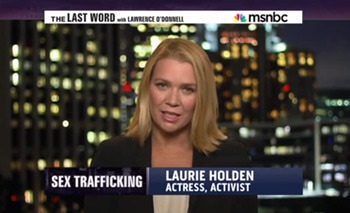 MSNBC
If you don't recognize her, just imagine what she'd look like after not bathing for two years.
Honestly, this would almost make less believable television than deceased people going for strolls. Operation Underground Railroad was put together by a former CIA agent who recruited what ABC News dubbed a "ragtag group of volunteers," including two CrossFit instructors from Utah, a door-to-door salesman, and Holden. Then they all went down to Colombia to do some sex-slave-liberating, as one does. Holden would don her disguise of a wig and glasses to distract the girls and traffickers while armed authorities surrounded them. At one point, she pretended to be an American visiting as part of a bachelor party, so she had to convince the slavers she was a cool "party girl" just there to have "a good time with the guys." Ladies: If your fiance's bachelor party involves sex slaves, you probably need to rethink that marriage. It doesn't matter how much you'll lose on the deposit.
ABC News
Sadly, her role in Dumb And Dumber To WASN'T part of a sting operation
to stop the Farrellys from making more movies.
In the end, they rescued 55 girls, some as young as 12, as well as a major trafficker. And this wasn't even Holden's first time doing this: She was contacted specifically because she had been involved in similar stings in Cambodia and Vietnam. Her Walking Dead character routinely dispatched undead monsters, and she still wasn't as badass as the real-life version.
Lest you think she is the only cast member who kicks butt in their down time, the guy who played The Governor, David Morrissey, was on a U.N. boat rescuing Greek refugees ... who probably didn't have American cable; otherwise, why the hell would they get on a boat with that guy.