What all of us want out of politics is the one thing it will never give us: simplicity. We want to go to the polls and know that we're on the light side of the Force and are voting against the Sith, who are easily identifiable by their frustratingly ignorant bumper stickers. The real world is never that neat, which is why most of us agree that reality is an asshole.
So when we set out to debunk political myths, we're not going to just flip the coin ("Democrats are the REAL racists! Republicans are the REAL big spenders!"), because that would be making the same damned mistake in the other direction. We're simply going to point out that even the most straightforward political truths you've always heard aren't nearly as simple as people would like you to believe.
Myth: Universal Health Care Is A Liberal Democrat Invention
Win McNamee/Getty Images News/Getty Images
It was the biggest, ugliest political fight in recent memory. In 2010, President Obama signed the Affordable Care Act into law. And as might be expected, not a single, solitary Republican senator voted in favor of it.
Win McNamee/Getty Images News/Getty Images
Not even sick old Senator Illheart.
This, we were told, was the culmination of a decades-long battle over universal health care between Left and Right. Making a government-backed health care program available to all Americans has long been a wet-dream of the Democratic party going back to President Johnson, who signed Medicare into law in 1965. Republicans, meanwhile, have kicked and screamed the entire way, insisting that a "socialized" health care system would transform us into a nation of commies -- or worse, Canadians.
But Actually:
It's true that the Affordable Care Act will undoubtedly go down as the biggest part of President Obama's legacy (especially since we call it "Obamacare"), barring a spontaneous war against China in the next year. But he can't exactly be credited with coming up with all that original of an idea. Especially when it's a much more watered down version of the plan floated by the very Republican Richard Freaking Nixon.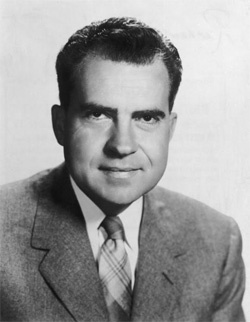 Hulton Archive/Archive Photos/Getty Image
Ah, yes. Ol' "Tricky Doc" Nixon.
That's right, Nixon proposed a universal health care plan to Congress way back when the American Dream was to recover from the decade-long acid trip that had been the 1960s. And he did it not once, but twice: in 1971 and again in 1974. Like the Affordable Care Act, Nixon's Comprehensive Health Insurance Plan (or CHIP) was intended to extend affordable health insurance coverage to every last American via a harmonious combination of employee-based coverage, assisted coverage, and expanded Medicare.
In fact, Nixon's second proposal was met with enthusiasm in the Senate ... until a little thing known as Watergate obliterated any chance of "Nixoncare" entering the national lexicon.
Hulton Archive/Hulton Archive/Getty Images
Plus, everyone forgets Nixon's plan to turn Watergate into affordable housing.
Not that the Republicans owned the idea. Even before Nixon came along, Democrat Harry Truman tried and failed to get universal healthcare passed. Republican Dwight Eisenhower then pushed for tax breaks to get insurance companies to cover poor people, and for employers to cover their workers.
Thirty years after Nixon's failed proposals, Republican and future presidential candidate Mitt Romney enacted what amounted to Nixon's plan in his home state of Massachusetts. Romney believed his ... wait for it ... Romneycare program was "essential for bringing the health care costs down for everyone and getting everyone the health insurance they need."
Jamie Sabau/Getty Images News/Getty Images
"Even if 47 percent of them can kiss my ass."
Again, the point here isn't to argue that government-funded healthcare is good or bad -- feel free to debate that among yourselves -- only that it's not some socialist pipe dream that represents the end of a long battle with Republicans. Presidents from both parties have been trying to get something like Obamacare done for seven decades.
Myth: Republicans Love War, Democrats Are All About Peace
Bill Greenblatt/Hulton Archive/Getty Images
Most of our readers spent their formative years with George W. Bush giddily plunging the US into one war after another, while the older members have vivid memories of Ronald Reagan threatening to push the button on Armageddon in every speech. Meanwhile, things were fairly peaceful during the Clinton and Carter years.
Dirck Halstead/Hulton Archive/Getty Images
"You may criticize my tactics, but I got us through the Cola Wars."
The picture that paints is clear: If there's one thing Republicans love more than their guns, it's using said guns to enforce truth, justice, and the American way abroad. Democrats, on the other hand, are all about gun control and diplomacy and pacifism, which is a fancy word used to indicate that they're too dainty to do freedom's dirty work. Hell, President Obama was awarded a Nobel Peace Prize back in 2009, before they'd even got the new name painted on the White House mailbox.
But Actually:
This might be the ultimate example of "Judge by what they do, not what they say in stump speeches." Republicans love to talk tough on foreign policy, and Democrats love to smear Republicans as warmongers. But when you examine what occurs during their administrations, you get quite a different picture.
World War I? That happened under the watch of Woodrow Wilson (Democrat). Speaking of World Wars, the States entered the second one under Franklin D. Roosevelt (Democrat) and ended it under Harry Truman (also a Democrat), who ordered the use of a goddamned experimental doomsday device.
Department of Defense
To be fair, by the second bomb, it was no longer experimental.
And speaking of Harry Truman, the Korean War kicked off with what he described as a "police action." Vietnam? While the situation there began to fester under Dwight Eisenhower (Republican), it was the resources dumped into the war by JFK (Democrat) and Lyndon Johnson (Democrat too) which transformed it into the shitstorm that has generated several hundred very depressing movies in the decades since. Nixon (Republican), of all people, gets credit for ending American involvement in Vietnam in 1973.
And as for our most recent example, some have described President Obama as "one of the most militarily aggressive American leaders in decades." That's because he poured troops into Afghanistan, overthrew a Libyan dictator without Congress's approval, conducted covert operations in Yemen and Somalia, and sends out more killer drones on an average day than Skynet. On the one hand, he reduced Al Qaeda's leadership to a smoking puddle. On the other, he was the first president to greenlight the assassination of a U.S. citizen for his ties to terrorism, without a trial or due process. But in neither hand will you find a peace-loving hippie.
Samantha Appleton
"In deference to the Nobel committee, I will try to bomb no more than seven countries."
"But," you might rebut, "Obama ended the Iraq war that Bush started!" Nope -- Obama loves to tout his "ending" of the war, but the troops came home on a timetable signed by Bush just before he left office. All Obama did was keep that plan in place. And when it comes to spending money, lavishing cash on the Pentagon is one thing both parties agree on -- Bush's last defense budget was $626 billion, which was spent while fighting two wars. Four years later, Obama poured $700 billion into the military, despite the wars having supposedly wound down by then. That's because no matter who is in office, the budget rhetoric sounds remarkably the same: Asking the military to even make minor cuts around the margins means we might as well let Al Qaeda fly their flag over the White House now.
And while we're on the subject of wildly spending tax dollars ...