School's back in session! Boo! But let us consider the field trip -- that rare, special school day that's actually enjoyable. Whether they're to the Martin Van Buren Sideburn Memorial, the Tri-County Scent Hole, or the Transcontinental Yogurt Dump, field trips are a great excuse to goof off (as long as you pretend that you learned something).
That is, unless you attended the trips below. In that case, all you learned is "The universe is pointless horror, and knowledge itself is a sham drummed up by the greeting card companies."
The Chaperone Who Was One Of

Washington's Most Wanted
Washington's Most Wanted
Having a parent as a chaperone can be embarrassing. You get enough of them at home, and then suddenly they're on your turf, telling you that if you don't hurry and get back on the bus, then they won't use fabric softener on your Six Million Dollar Man underoos. (Yeah, because we'll be in a real hurry when everyone on the bus is laughing, imagining Steve Austin's cyborg visage plastered on our ass, Mom.)
But in a less totally hypothetical example, they can sometimes be embarrassing to the school. One father in Washington state was chaperoning his daughter's elementary school trip when another parent recognized him from his recent appearance on Washington's Most Wanted, the regional equivalent of America's Most Wanted which is mostly concerned with Pearl-Jam-related crimes.
Washington's Most Wanted
"Hey, we once investigated a serial killer who left clues in the form of Sir Mix-a-Lot lyrics."
So rather than the cookies and juice you'd normally expect waiting for you back at the school after a hard day's chaperoning, the man was confronted by a cop. But by weaponizing his "violent dislike for police officers," he escaped the locked-down school after a "scuffle." Which, frankly, sounds way cooler than anything that could have possibly happened on the trip.
Unfortunately for the action movie we were already scripting in our heads, the guy peacefully turned himself in that evening. This was arranged after he was reached by phone, which makes us wonder what's going on with Washington's police force if a man they can contact at will is on their Most Wanted list. Whatever the explanation, all of this is going to make for a very impromptu and perplexing lesson on the criminal justice system for a select group of students.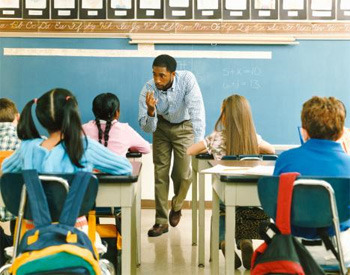 Digital Vision./Digital Vision/Getty Images
"That was called 'resisting arrest,' and you should never do it, even though it looks really cool."
The Disney World Trip That Was A Big Fat Lie
Lee Bailey/Wiki Commons
Kids are dumb and confused all the time, and any self-respecting teacher would be remiss if they didn't take advantage of that. But there's almost definitely a circle of the underworld for those damned adults who promise tots a fake trip to the Duchy of the Mirthful Rodent.
Eighth-grade teachers in Windsor, Ontario didn't simply make a quick joke about going to Disney World that no reasonable student could take seriously. No, brochures were fucking perused. Forms were filled out. A presentation explained how the students would be roomed and how a group of rowdy teenagers could most efficiently be absolutely terrible. But the presentation ended with a twist: They were in fact going to a local bowling alley! Also, Mickey Mouse slept with all their mothers, and Donald Duck would vomit on them if they even thought of showing their punk faces!
Joe Raedle/Getty Images News/Getty Images
"Goofy said he'd vomit on you while he slept with your mothers."
Their teachers even recorded the prank so that they could later slow it down and pinpoint the exact moment every student's soul died. Despite a massive outpouring of criticism from students (and parents who thought they were going to unload their hormonal teenagers for a few days), the school offered no response beyond commenting that all the teachers involved felt bad.
Because the teachers felt just awful that a prank that was obviously going to go wrong went wrong, they faced no punishment beyond constant withering stares and whispered hallway threats that "The happiest place on Earth will be wherever I'm torturing you lying dipshits with a rusty soup ladle."
chensiyuan/Wiki Commons
"They were so sad that we booked the end-of-the-year faculty meeting at Epcot to cheer them up."