You know the deal. Spill the salt, toss a pinch over your shoulder (and blind an innocent bystander). Speak too soon, knock on wood. Walk under a ladder, sacrifice your left testicle to James, the god of careless handymen. We're all a little superstitious about some things, even if it's just, say, the belief that we can control a rolling bowling ball with our body language. The human brain is kind of built that way.
Still, if you step back and take a broader look at the ripples that such preposterous notions send butterfly-effecting across the world, you find that things we tend to think of as "harmless" superstitions can actually be anything but.
Friday the 13th Is a Bad Day for Stocks
leungchopan/iStock/Getty Images
Long before it ever became associated with homicidal zombie maniacs in protective sports gear, Friday the 13th was bad news in ways that, while they may not have reached machete-murder proportions, were still absolute shit luck for all involved.
To get an idea of how widespread the phenomenon of allowing superstitions to control our behavior is in America, let's look at some numbers. According to the clinical director of the Anxiety Treatment Center in Chicago, Karen Cassiday, about 10.5 million people in the U.S. suffer from obsessive-compulsive behavior, and a quarter of those harbor strong superstitious phobias. Beyond that, an additional 21 million have generalized anxiety disorder, up to 80 percent of whom are superstitious, Cassiday estimates.
Greg Henry/iStock/Getty Images
"We lay millions of creamy chocolate eggs for you bastards and this is the thanks we get?!"
Now, take that many people whose fear and worry control their every move, and it's bound to have a nationwide effect. A single Friday the 13th in America is estimated to cost the economy as much as $900 million, because instead of going on vacations, going to work, shopping, and doing everything else otherwise known as "being human," all those people are instead sitting at home stewing in puddles of their own terror pee.
But it doesn't end with the overly anxious among us. Looking at the historic performance of the stock market on Fridays of the 13th variety, it shows average gains of just 0.2 percent or less. It would seem that stock traders -- people specifically known for their rational and calculating nature -- are still afraid to buy stocks on a day that's supposedly unlucky. And they hold the fate of the world's economies in their crazy hands.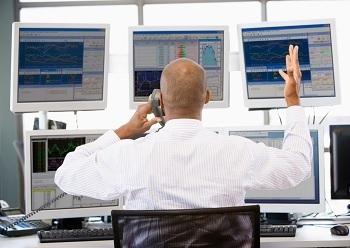 Cathy Yeulet/Hemera/Getty Images
Bob's Broken Mirrors and Indoor Umbrellas Inc. rues the day it went public.
The Black Cat Superstition Kills Droves of Adorable Kitties (and Puppies)
Ermolaev Alexander/iStock/Getty Images
Every year, more than 5 million dogs and cats find their huggable asses sitting behind bars in an animal shelter. About half of those get adopted. The other half? Well, for them, the animal shelter is the last stop in their furry little lives. And since we're a website and therefore can't accompany this paragraph with the soul-destroying stylings of one Miss Sarah McLachlan to make it even more heartbreaking, we'll tell you that a huge chunk of those senseless deaths are absolutely thanks to an age-old -- and infinitely dumbass -- superstition.

We lied.
The color black has been associated with evil and misfortune for untold eons, and we don't mean in the way your asshole great-uncle drunkenly informs you every Christmas -- we're talking about the good old-fashioned "black cat = bad luck" superstition or, as shelter workers call it, Black Dog Syndrome. It refers to the fact that black dogs and cats are typically the very last to be adopted, and are therefore much more likely to be sent to the doggy gas chamber to make room for the constant influx of critters of the fairer variety (just the way your asshole great-uncle would want it).
woodygraphs/iStock/Getty Images
"If they wanna beg at my table in my house, they better learn some fuckin' English."
The outlook for black pets gets even more dire when you consider the fact that this prejudice seems to have blossomed into a full-on kitty racism tree since it first set down its unlucky roots. Not only are people apparently still subconsciously blaming black cats for their lack of winning the lottery, they've also come to associate black dogs with dangerous behaviors. In one 2013 study, participants rated black dogs as not only less friendly (and, therefore, less adoptable) than their yellow or brown counterparts but also far more likely to make a lovely snack out of your face meat.
To be clear, people made this judgment call based on a photo of a black dog that they'd never once met or even asked "Who's a good boy?" Good thing we've never treated our fellow humans with such superficial prejudice, huh?
Jupiterimages/Stockbyte/Getty Images
"No sir, it's happenstance you've been randomly selected for a two-hour search the last 15 times
you've been here. Please bend over."
This may go a long way toward explaining why we seem to automatically judge darker breeds such as rottweilers as exceedingly vicious, despite the fact that they're actually less aggressive than their pint-sized counterparts and that their behavior seems to largely correlate with that of their two-legged companions (we call it the "asshole owner, asshole dog" syndrome). Of course, the fact that they have a conveniently human-face-sized mouth ringed by nightmare-daggers might also have something to do with it.