Everyone has that one kooky acquaintance who won't shut up about a completely stupid conspiracy theory. Maybe it's your coworker who clearly hasn't showered since 2007, your third cousin at Thanksgiving who keeps making Mai Tais out of cranberry sauce and rubbing alcohol, or -- if you live in Texas -- the governor of your state. Last month, Governor Greg Abbott ordered the Texas State Guard to keep an eye on military forces taking part in a training exercise. You know, just in case it was actually part of Obama's plan to take over the state in the name of Allah.
Whether the governor really believes that crap himself or simply wants to appease the important "nutjobs who drinks their own piss" demographic, the implications are equally terrifying: The Internet's stupidest conspiracy theories are bleeding into the real world. So let's laugh at the following ones before the Men in Black come and wipe them from our brains:
"Walmart Stores Are Being Converted Into FEMA Prison Camps!"
Joe Raedle/Getty Images News/Getty Images
Back in April, six Walmart stores across Florida, Texas, Oklahoma, and California abruptly closed due to "plumbing problems" -- presumably, a customer dropped a deuce so big that it clogged the toilets in four different states. Not everyone bought this explanation, with some speculating that Walmart might have closed the stores to prevent workers from unionizing. Naturally, that theory wasn't sexy enough for the Internet, so they came up with something slightly better: the end of democracy in America. And the obvious clues were always right there in Walmart's logo:
MrCati/YouTube
Alternate theory: The Walmart logo is the puckered anus that birthed that giant deuce.
Around this time, the government announced a military exercise code-named Jade Helm 15 (the same one that has our pal the Texas governor so concerned) which will take place in the exact same states where Walmart closed the stores. Except for Oklahoma and Florida. Oh, and with the addition of Nevada, Utah, Colorado, Arizona, and New Mexico, where no stores have been closed. But other than that, it's the exact same states, which is confirmation that the government is planning on invading and imposing martial law over the region. This raises some questions, such as: 1) Why would the government invade a region it already controls? 2) Why would the arrival of the new world order be heralded via a press release? 3) Why are you asking so many questions? Holy shit, this guy is in on it! Shoot him!
As for how, exactly, Walmart factors into it: Once the government starts taking over, the brave individuals who don't bow to this Obamination will be taken to the stores and held there for extended periods of time, surrounded by sweat, smell, and the darkest depths of human misery. So it'll be business as usual, then. Meanwhile, the military will be able to travel from state to state through a network of underground tunnels that totally exist under the Walmarts.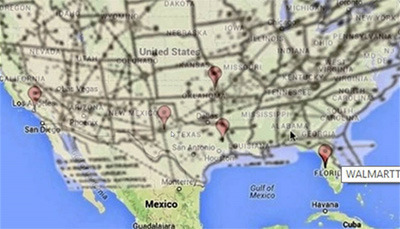 DAHBOO77/YouTube
When they say they'll check the stock and take forever to get back? They actually went to check in Iowa.
Also, China! China's government is involved in this, somehow. We know because a woman saw a Chinese person working at a Walmart. Well fuck, they should have started there. Now we're scared.
"Michelle Obama Has A Penis!"
Chip Somodevilla/Getty Images News/Getty Images
As you're no doubt aware, conservative conspiracy theorists have spent most of the last decade arguing that it's impossible for a black person to have come from anywhere other than Africa. Eventually, they must have realized that whole thing was starting to make it look a tiny bit like they might be racists, so they've moved on to another theory: It's impossible for Michelle Obama to be a woman.
One of the chief pieces of evidence for this dubious claim is that, according to experts who learned about anatomy from "How to Draw Anime Characters" guides, Mrs. Obama has the physical characteristics of a man. They haven't been able to prove this conclusively yet, because Mrs. Obama doesn't send full-body measurements to any random pill-dodger, but that's nothing some grainy video footage and a copy of MS Paint can't fix.
inquisitr.com
"Clearly she learned how to fake her birth certificate from her husband."
Another strand of this madness is the revelation that no pictures have ever been released of a pregnant Michelle, clearly suggesting either a grand conspiracy involving adoption, or that she was pregnant during an era where insane people weren't trying to examine her junk via a long-distance lens. We are not kidding:
fellowshipoftheminds.com
countdowntozerotime.com
If we go by clothing folds, we've got several dicks growing out of our armpits.
But perhaps we shouldn't even be telling you about this theory, because it's also alleged that Joan Rivers was assassinated for "outing" the president's wife when she said, "You know Michelle is a tranny." After all, what's more likely? That an 81-year-old comedian known for making offensive jokes died from surgery complications, or that she was genuinely signaling the true identity of Mrs. Obama to the world? We all know the answer to this.