Epilepsy: the disease that ruins raves. We all think we have a pretty good idea of what it entails. Flashing lights cause you to flail about like a puppet in an earthquake, and that's about it, right? Actually, there are three categories of epilepsy, the symptoms of which are all over the place, and only one of them even has a known cause. The pop culture definition of epilepsy (which is, tragically, where we get like 99 percent of our definitions), is almost entirely wrong. Rachel King has been living with epilepsy for ten years, so we figured we'd ask her what it's really like:
You May Have a Seizure and Not Even Realize It
cosmin4000/iStock/Getty Images
A seizure is basically a tiny Thor throwing a tantrum inside your brain. The electrical patterns go all sorts of crazy, and that leaves your memory screwed when it's all over. Once, I was walking around in my apartment and saw a trail of blood on the floor. Operating on ditzy horror movie starlet logic, I followed it, and it ended halfway up my bookcase. I rushed to the bathroom mirror and saw that my head was bleeding. Turns out I'd had a seizure, hit my head on the bookcase, and forgot the time between waking up and finding the blood. It's a common occurrence to forget the first few minutes after you wake up. There's no practical difference in the feeling between "oof, Mondays, right?" and "I just had a seizure."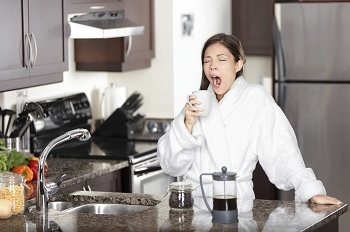 ariwasabi/iStock/Getty Images
Sadly, blood, drool, and brain goo don't make for very good sweeteners.
After a seizure, you're slow cognitively, but you don't look outwardly different. So your boss might wander in while you're in a post-seizure fugue and give you a list of things to do. By the time he leaves, you'll not only have forgotten the tasks, but that he ever talked to you in the first place. One time, I went to a dinner party shortly after having a seizure. I don't remember a lot of it, but my boyfriend told me that I sat there for two hours and didn't say anything. At one point, I apparently started punching him. I only realized what happened when he told me that his friends thought it was a bit weird that I stared silently for several hours and then started beating him in public. Generally not the best signs of a healthy relationship.
matteocestra/iStock/Getty Images
Even couples who met at Fight Club talk to one another between fisticuffs.
Epilepsy Complicates Your Love Life in the Strangest Ways
Jupiterimages/Photos.com/Getty Images
With my type of seizures, I fall down and get injured a lot (see The Case of the Crimson Bookshelf, above). When I was working as a babysitter, I had black eyes all the time. I didn't want to tell them that I had seizures, because I didn't want them to mistakenly assume that I couldn't watch their kids. I ended up using the old domestic violence excuses, like "I walked into a door" or "I just fell over." I was dating a buff guy at the time, and people would always give him looks on the street because of it. They assumed he was beating me. It can actually be a strain on a relationship.
BernardaSv/iStock/Getty Images
It really doesn't help when you try to explain, "No, it was all my fault."
Plus, you wouldn't believe how many people have hit on me specifically because I have epilepsy. And they cut to the chase. The first thing they ask is if I've ever had a seizure during sex. I don't get it -- a seizure is by no means an attractive thing, and if one happened while you were having sex with me, you almost certainly wouldn't enjoy it. Unless you also enjoy things like necrophilia, in which case, you're a real catch, huh?
DAJ/amana images/Getty Images
"We met on OKCavader."
The pickup lines mostly happened when I was in college, but it wasn't the typical jockish douchebag frat guys that you're all picturing. Almost every guy who found my epilepsy hot was the artsy, guitar-playing, skinny hipster variant of douchebag. I'm guessing it's because a lot of them thought of themselves as sensitive and quirky, but weren't quite sure where to draw the line. I promise you that line is long before "I want to bang your disease."