It doesn't matter how good you think you are at gaming the system, casino games are very carefully designed to make sure you lose more money than you win. Whether you're talking about slot machines in Vegas or scratch-offs bought at a gas station, it's all a big scam to take advantage of our human inability to calculate probability.
But over time, a few rare people have managed to beat the house in creative and/or hilarious ways. And the best part? These were all completely legal! Sort of.
There Is a Dice-Throwing Technique That Will Let You Beat Craps
Jupiterimages/Photos.com/Getty Images
Craps is a unique game because it's the only one where the casino trusts you to throw the dice yourself. You're allowed to hold, shuffle, and throw them however you want, even rub them on your ass crack and sing a prayer to Zuul the Gatekeeper of Gozer if that's what your superstition commands. The only stipulation is that the dice have to hit the far side of the table. That's because they know that the craps tables look like they were designed by Frank Gehry.
Jupiterimages/Photos.com/Getty Images
And the rules were made by M.C. Escher.
See, those rubber pyramids along the edges are supposed to send the dice flying all over the place, so that any fancy dice-throwing technique you come up with will do nothing but give you a sad, pathetic illusion of control. Unless, that is, you're someone like Dominic "The Dominator" LoRiggio.
He claims to have cracked dice physics in such a way as to command the result of a dice throw, rubber pyramids or not. For the low low price of $149.50, he'll teach you how to do it. Or, you can just continue reading this article for free, because we're about to tell you. Basically, in craps, you mostly want to avoid rolling a seven. The longer you can go without rolling seven, the more money you make. Dominator's technique involves holding the dice like this, so no two sides add up to seven:
Dice Setter
These two sides add up to six dots, which the boys in the lab tell us is less than seven.
And then throwing them in this specific way:
Golden Touch
"Use an underhand motion, as though you're not completely comfortable with the use of human limbs."
The idea is that the dice land flat on the table, transferring most of the energy to the table surface. By the time their journey reaches the table edge, they're exhausted and just want to lay down with a good book, so the pyramids just sort of nudge them instead of bouncing them around.
Apparently, the theory is sound if you can do it correctly. A guy with the pseudonym "Stanford Wong" joined the seminar, practiced 5,000 throws, then bet people he could beat the odds and roll less than 80 sevens in 500 rolls. He rolled 74 sevens and won $15,400. Stanley Fujitake is another person who claimed to master the robotic precision required, and by "claimed" we mean he made $30,000 rolling the dice for 3 hours straight -- 118 rolls without rolling a seven.
nicoletaionescu/iStock/Getty Images
Simultaneously winning the award for World's Most Tedious Bar Trick.
Of course, there's no magic trick here (other than "get really good at rolling dice") and you probably have to be willing to lose a shitload of money while you practice. Unless you buy your own craps table to practice on, we suppose, but there's a good chance that's going to result in your family staging an intervention.
You Can Learn to Read the Backs of Playing Cards (Sometimes)
John Howard/Digital Vision/Getty Images
In 2012, professional poker champion Phil Ivey Rain-Manned the Borgata Casino in Atlantic City without possessing any high-end math skills. All he did was pay very close attention to the back of the playing cards: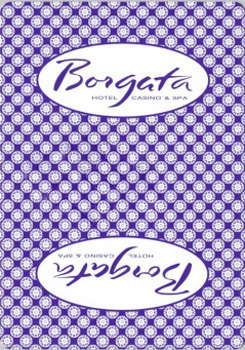 Philly Mag
This is a completely normal hobby.
The pattern of white dots were, of course, the same from one card to the next. But, Ivey noticed that they weren't perfectly centered -- the row of white dots on one side of the card was thinner than the other, due to a minute error when the cards were cut during manufacturing.
On the surface, this wouldn't seem to be terribly helpful. But let's say you could take all of the aces in a deck and spin them around 180 degrees -- you would then have a way to figure out which cards were aces just by looking at the backs (as long as the dealer never rotates them again, or changes decks). So actually taking advantage of this little trick required an elaborate, ridiculous charade on Ivey's part.
Creatas/Creatas/Getty Images
"It might not make sense now, but this step is crucial."
First, keep in mind that Ivey is what casinos call a "whale." Not because his table etiquette involves a family bucket of KFC, but because he's a bottomless pit of money, and high-rollers with gambling addictions are basically what keep casinos in operation. So he was able to use the promise of a huge profit to negotiate with the casino to get a baccarat game set up just the way he wanted. In exchange for gambling a million dollars, he would get his own private table and have the cards shuffled by an automatic shuffler (to avoid having a dealer screw up his scheme by turning the cards). He also requested a Mandarin-speaking dealer for no discernible reason (Ivey is not Chinese) other than making the whole thing seem like as much of an Ocean's 11 caper as possible.
With all the pieces thus in place, the heist could begin. Ivey would start at low stakes, losing money while studying the backs of the cards. Then, citing superstition, his accomplice would ask the dealer to deal cards a certain way. If the card was a high-value card, she'd tell the dealer "Hao" (Mandarin for "good card") and instructed the dealer to turn it over like you normally would. If the card was of low value, she'd say "Buhao" ("bad card"), and ask the dealer to turn it sideways, meaning it would wind up rotated 180 degrees when placed back in the deck. At that point, Ivey just needed to stay at that table long enough to get all of the cards "marked" the way he wanted, playing a bunch of low-stakes hands to get through the decks.
John Howard/Digital Vision/Getty Images
"You guys don't have any one cent chips, do you?"
At that point, Ivey upped the stakes to the maximum and started trouncing the casino, supposedly winning $2.4 million in 16 hours of play. He repeated this several times months apart at the same casino, and when they got suspicious he allegedly lost $2 million of his $3.5 million winnings just to throw the casino off the scent.
Ivey has remained tight-lipped about his antics, making vague admissions while maintaining that what he does is a legitimate way to play cards (it's a common enough tactic that there's a name for it -- "edge sorting"). After all, is it his fault that the card factory has poor quality control? Well, Borgata sued him (it's still before the court) and in October 2014, a British court told him to return over $12 million to a London casino where he tried the same thing. So if you're gonna do it, you've got to be discreet, is what we're saying.