Liberal Guilt Justified: 6 Creepy Mail Order Bride Websites
#3. Anastasia-International.com
This is one of the slicker sites out there, and since it operates out of Bangor, Maine, company representatives are able to understand the harsh, barren conditions their Eastern European clients are trying to escape. Meanwhile, skin-bearing profile pics tend to marginalize the interests and what-type-of-man-I'm-looking-for sections, making it very similar to a Fredrick's of Hollywood catalog.
Sample Profiles:
Elvira is a 38-year-old divorcée who enjoys long walks and ill-fitting ten-gallon hats.
Irina from Odessa, Ukraine wants a man who can respect her for her mind.
True Love Testimonial:

"Dear Anastasiaweb.com I first of all would like to thank you and appreciate all of you in a big gratitude of thanks." Georgia, USA May 2005
It should be noted that if you marry a foreign bride you may begin to speak and write like someone for whom English is a second language.
From the FAQ:

"What about the privacy of the messages I send and receive?"
"The agency personnel who translate your messages will not know your identity at all, and in many cases will not know the lady's identity either. Furthermore, she will be an industry professional, accustomed to assisting in communications of the most intimate nature."
We don't know what's sadder, the idea that anyone would believe this or the idea of some "industry professional" diligently studying a foreign language, dreaming of being an interpreter at the UN, only to wake up one day and find themselves translating awkward, creepy international love notes.
Chances of Finding Everlasting Love:
If you're going to trust any site, this one is probably as good as any. They do a lot of business and seem to attract a lot of positive press including being featured in Forbes magazine, Red Herring and in a story on the AP newswire. It's kind of strange really. We can't imagine why any reputable publication would want to devote an entire article to such a topic.
#2. ForeignLadies.com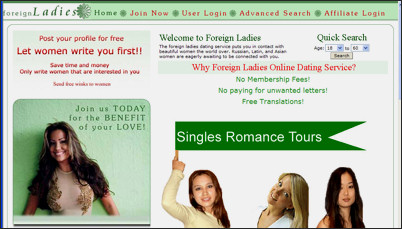 ForeignLadies features profiles, but its main focus is arranging tours whereby men can travel to the usual suspects of Eastern Europe, Asia or Latin America to meet available women. One particularly popular tour goes to Peru and offers the opportunity to visit Machu Picchu, an Inca ruin that is coincidentally named after the god of romantic desperation.
Sample Profiles:
Mhea is a 19-year-old Filipino looking for a man that doesn't mind being constantly suspected of statutory rape.
Oksanochka from Luhansk, Ukraine is the adventurous type of gal who substitutes roadkill for panties.
True Love Testimonial:

"[My] tastes run toward Asia. [Your] Thai ladies are a great combination of extraordinary beauty, high-class sophistication, and complete devotion to their men."
We're going to take a wild guess and say this man's mail-order bride will eventually murder him in his sleep.
From the FAQ:

"Who are foreign ladies?"
"ForeignLadies.com is an international dating website featuring women from Russia, Ukraine and Latin America who are looking for lasting relationships and/or marriage with Western men."
Or more to the point, they're the women you're attempting to poach from foreign lands, leaving disillusioned foreign men with nothing but rage. Rage directed towards the United States. We can only hope Al-Qaeda isn't creating ForeignMen.com as a recruiting tool.
Chances of Finding Everlasting Love:
While the trips arrange for an array of activities, it's not clear how any of them will put you in contact with women who are anything but totally and utterly creeped out by your presence in their living room asking them if they "like to party."
So your chances are probably on par with what you'd be looking at if you cruised up to a "MILF" in the produce section of the local grocery store and told her you were looking for "ripe melons" with a knowing smirk on your face.
#1. HotRussianBrides.com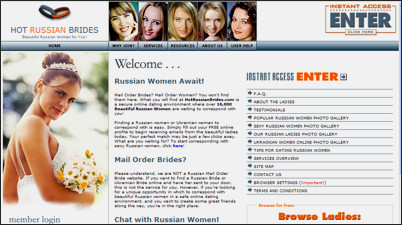 This site offers to put you in touch with attractive bachelorettes in Russia and the Ukraine, but something is just not right about it. Many of these profiles feature women who are simply too incredible to believe. We're not talking stripper hot either. We're talking hot like Scarlett Johansson. Check out the first sample profile and you'll see what we mean.
Sample Profiles:
Elena is 24, hails from the Ukraine and makes our hands sweat by leaning against a well and holding a cell phone.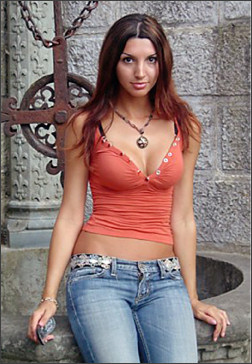 This next shot is not from a profile. It's a picture of Svetlana and Texas Jerry, a coupling facilitated by the site. If there is any justice in this world, Elena will not meet the same fate.
True Love Testimonial:

"You have been extremely helpful and it is truly appreciated. I have met some wonderful ladies on your website and your excellent customer service continues to make my investment worthwhile." -Tlhapi
Forget about all those American women that only care about money. These smokin' Russian woman are the best, because their wonderful nature yields repeated dividends on the initial investment.
From the FAQ:

"I'm no stud. What would these girls want with me?"
"Many men assume that all women are overly concerned with a man's appearance and how much money he makes. Sure, some are, but we know from experience that most Russian women aren't...They love their men for who they are on the inside."
Oops, I forgot, I actually am a stud with no personality. Would they still want me? Sure, some women are only after stimulating conversation, but not Russian women. They don't understand a damn word you're saying and just want meaningless sex. And isn't that why you're perusing this site anyway?
Chances of Finding Everlasting Love:
Doubtful. First off, the best-looking women on Hot Russian Brides are just too attractive to want schlubby Westerners who spend all day trolling the web for girlfriends. By the time you make contact, they'll have already shacked up with some oligarch or a smooth-talking comedy-website writer. Those guys get all the chicks.
If you liked that, you'll probably enjoy Anthony Layser's look at the Creepiest Craigslist Casual Encounters. Then, head over to the blog and read about the Children of Men TV series and what a terrible idea it is.