A well-handled cameo subtly acknowledges the fourth wall without taking the audience out of the flow of the movie. A poorly-handled cameo hurtles through the fourth wall and furiously pimp slaps you until you're unable to remember what the fuck this movie was about in the first place. Here are six of the pimp-slappingest cameos of all time.
Saving Private Ryan

(1998)
The Cameo:
Ted Danson
The Lead Up:
We're immersed in the movie for a full hour already. We've seen the most graphic vision of D-Day ever shown on film. We've learned of the mission to save one man and we've seen the team lose a man in exchange.
Philosophical questions abound when suddenly the soldiers find themselves face to face with a squad of Nazis. Everyone has their guns pointed at one another, sweat is slowly forming on top of each and every brow. People are screaming in German and English and the entire theater is quiet with tense anticipation. And then it happens, the Germans get mowed down by ... Sam mother-fucking Malone from Cheers. Hey, Sammy!
Why it Nearly Ruined the Movie:
Maybe they got the idea to cast an '80s sitcom star in a war movie from Casualties of War. That Vietnam movie answered the question "Who do people want to see in a horrifying movie about cultural and oh so literal rape?" with the name Alex P. Keaton.
But Sgt. Sam Malone causes even more problems than Private Marty McFly, because his whole comedic persona on Cheers was based around a stone-faced droll delivery. So when he actually tries to be serious, you just keep waiting for him to crack a joke about how much tail he used to score when he was pitching in the minors.
Think back right now and see if you can remember anything about Ted Danson's role in the movie. If you're like us, all you hear is:
Sam: Hey there guys, looks like you've had a rough day. Sit down and tell me all about it.
Tom Hanks: We're looking for a Ryan. Private James F. Ryan.
Sam: Ryan eh? Let me go check. Carla! Hey Carla! You know guy named Ryan?
Sergeant Carla: Yeah, two of my eight kids are named Ryan.
Sam: No, Private James Ryan. Poor sap lost all his brothers and these guys need to find him.
Sergeant Carla: Haven't seen 'em. But you can have my boys instead. They're already proficient with firearms.
Tom Hanks: Thanks anyways, we'll be leaving now.
Lucky for us, Danson's only on screen for about six minutes, and Spielberg sucks us back into the action with a 10-minute scene of the guys holed up in a church for the night doing nothing but talking.
Star Trek III: The Search for Spock

(1984)
The Cameo:
Christopher Lloyd
The Lead Up:
Spock is dead, Bones has Spock's soul, the Vulcan chick isn't Kirstie Alley anymore and Scotty's weight gain continues unabated. Kirk and crew then proceed back to the Genesis planet so that they can save Kirk's bastard son because he's being threatened by ... Christopher Lloyd?
Why it Nearly Ruined the Movie: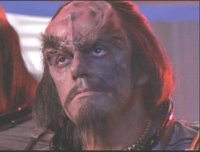 This cameo transcends the space-time continuum that Trek writers regard with such reverence that they screw with it at least once per movie (and 10 times per season). People who watched The Search for Spock on the big screen in 1984 did not see the Klingon villain Kruge, but rather the perpetually stoned cab driver "Reverend" Jim Ignatowski from the recently canceled TV show Taxi. For our under-30 readers, imagine if The Matrix had ended with Neo having to fight Kramer.
And while the makers of The Search for Spock can't be blamed for what came later, it should be noted that things didn't get any better for the later generation, who watched it post 1985 and saw the guy from Back to the Future who liked to say Jiggowatts.
While he's on screen for a large portion of the movie (being the main villain and all), Lloyd's role seems less like a top-billed performance and more like a cameo that just won't end. In trying to pinpoint exactly what it was about Christopher Lloyd's performance that made a horrible movie worse we discovered that he bore a striking resemblance to a stereotypical relative most of us have.
Lloyd is that annoying uncle that comes for Thanksgiving and doesn't leave until Groundhog's Day. While he's there he eats all the food (takes up all the screen time), bullshits about how he used to be in the special ops (pretends he's a barbaric Klingon warrior) even though there's no picture of him where he weighs under 200 pounds (looks like he could scare a 4-year-old). When he finally leaves (gets kicked into a river of molten lava) we feel relieved that we will not have to see him until next Thanksgiving.