It's always tricky to combine learning with fun, but especially difficult when it comes to learning about the bible. While Jack Thompson rants against video games for being "immoral" and "unacceptable" and "killing his family," a few companies are trying to put the hand of God back on the controller.
Not surprisingly, we found that devout fundamentalists often make incredibly bad game designers. A little less expected is their muddling of the message of the Bible. We take a look through six of the most preposterous religious video games, evaluating them on sheer ridiculousness, as well as biblical coherence to answer the ultimate question: What would Jesus play?
Suppose you own a Super Nintendo, but the 16-bit graphics have too many rounded corners and smooth surfaces for your eyes. Also, imagine that your idea of a fun game involves taking an existing PC game about shooting nazis, and reskinning it so that you are throwing fruit at animals that puts them to sleep. Having a difficult time imagining that? Well, then you'll have a hard time imagining why anyone in their right mind would buy Super 3D Noah's Ark.
Hell, we had a tough time even imagining why ID software would let a company like Wisdom Tree take over Wolfenstein3D, the grandpappy of all first-person shooter games and transform it into ... well, just a random grandpappy running around tossing melons at sheep.
Nor, can we readily fathom what Wisdom Tree was thinking here. Not only do you have to fictionalize the whole Noah throwing fruit at sheep trope--one apparently omitted as being too boring for the bible--but you also have to pass over about a million Bible stories that lend themselves to being Wolfensteined instead.
Would Jesus Approve:
Not only did the folks at Wisdom Tree make a bad game, it also appears that they have never read the Bible. For instance, it has Noah shooting fruit at an ark full of 100 sheep. Isn't the ark supposed to have two of each animal? Hell, you could have just seen Evan Almighty and known that.
This game offers three Wisdom Tree games for the price of one, which makes it an even worse deal somehow. After all, seeing what they do with a 3-D shooter, really, what could be better?
Answer: Pretty much everything above having your scrotum chewed on by a Rottweiler. What you're really getting here is three lame versions of the same incredibly bad game: Guy carries random crap across the level. Basically it's Super Mario Bros. if there were no villains or coins or anything other than pits to jump over.
In Noah's Ark, you guide Noah on his famous run through the jungle, lifting animals over his head, and carrying them back to the ark-trash-chute. You can even stack the animals into a big animal dagwood sandwich, although sadly, you can't eat them.
In Baby Moses, you lift Moses over your head, and carry him to the end of the level, where presumably, he is tossed into an ark-trash chute, off screen.
And finally, let's not forget David and Goliath, which is a complex gladiatorial combat game that both entertains and connects to the Biblical story. Just kidding! No, actually David and Goliath is a game where you--surprise!--lift sheep over your head and carry them across the level to an ark-trash-chute.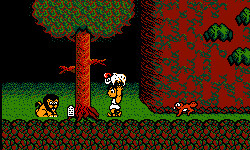 Would Jesus Approve:
There's no passage in the bible that says, "And thou shalt lift lots of animals over your head and carry them to Jerusalem." Also, the way you lose in the Baby Moses game is by dropping Moses in the river which feels a little morbid for a game that is presumably aimed at children. Not only have you just drown a baby, but you've doomed the Jews. Nice going, kid.