15 Times Beloved Shows Switched Genres For One Episode
Do you love over-the-top crime dramas? How about cutesy animated short films? Or perhaps you're more of a fan of heartwarming family comedies. Whether it's a comedy show dipping its toes into drama, or a procedural incorporating elements of horror, genre crossovers provide a fresh perspective on familiar material.
From comedies like 30 Rock and Modern Family to a sci-fi drama like Battlestar Galactica, there is probably something for everyone on this list. These are episodes that deviate from the regular format of the show in order to try something new and different. In many cases, these experiments are pretty successful and offer a refreshing change of pace for both the characters and viewers alike.
Whatever your taste, there's probably an episode on this list for yo. From "A Fistful Of Paintballs" to "Take Me Out To The Holosuite," we've pretty much got something for everyone. So sit back, relax, and enjoy!
Just another day in Sunnydale, California... until the vampire slayers and demons start breaking out into song.
A show within a show in 'Stargate SG-1'
'COPS' but make it 'The X-Files.'
'Community' goes Wild West in the Season 2 finale.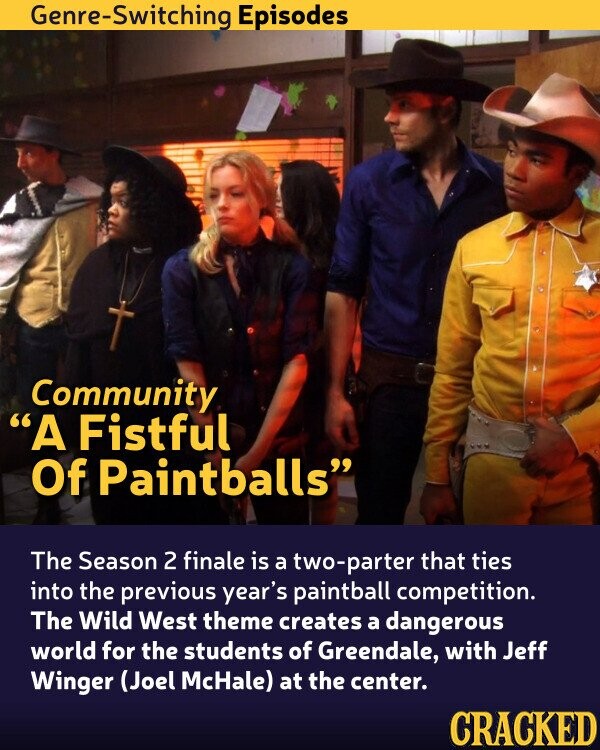 If you thought the Vulcan death grip was strong, wait until you see their curveballs.
Christa Miller got her kids-friendly episode of 'Scrubs'
In "A Day in the Life," we get an intimate, slice-of-life-type look into Xena and Gabrielle's lives.
The Winchesters are back, and this time they're facing ghosts on reality TV.
Just another day in '30 Rock' life.
'Modern Family' pokes fun at the soap-opera approach to season finales.
This post-apocalyptic thriller in 'Dollhouse' features character's unreliable memories as flashbacks.
The Doctor becomes embroiled in old west-style shootouts.
After a heavy episode of 'Battlestar Galactica,' Ronald D. Moore lightens the mood.
Tune in to "Revenging Angel" for a Looney Tunes-style 'Farscape' episode.
'Stargate Atlantis' riffs on popular crime television shows.