15 Strange Hollywood Myths, And The Reality Behind Them
It's no secret that Hollywood is full of myths. Some of these are true, while others are false. In this list, we explore some of the truths behind them.
The first myth is about Frankie Muniz, from the show Malcolm in the Middle. There was a rumor going around that he couldn't remember filming the show due to concussions. However, this is not entirely accurate. He clarified that he has a bad memory in general and did suffer from concussions, but there are still some things he remembers about being on set..
The second one surrounds Elvis Presley's death. It was originally believed that he had died of cardiac arrhythmia. however Dr. George Nichopolous revealed his belief that it was chronic constipation, perhaps caused by Hershberger's disease.
Lastly, the third myth is Natalie Wood's death being an accident. However, new evidence suggests Robert Wagner pushed her off their boat after a fight, leading many to believe she was murdered.
Michael Kahn, Spielberg's editor at the time, is likely responsible for this due to Amblin film style.
The Goldmans published O. J. Simpson's book, 'If I Did It,' to pay off his debtors.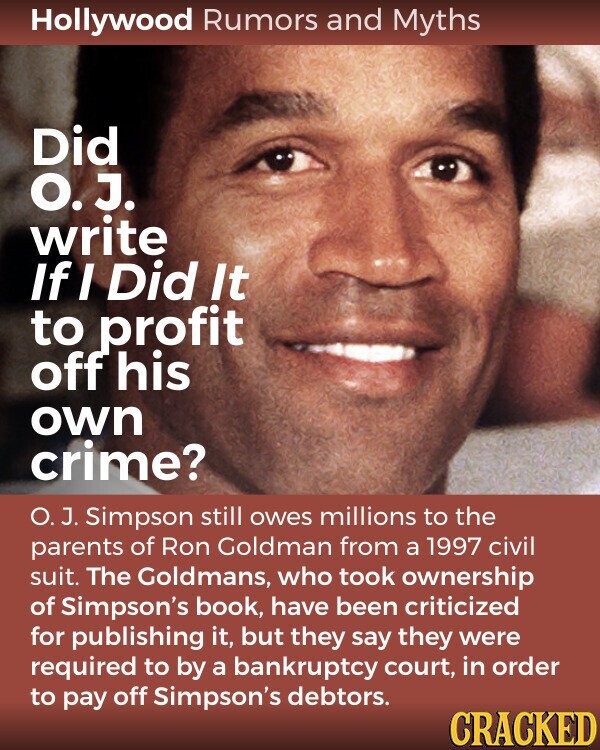 Harrison Ford didn't get a job on 'Star Wars' thanks to doing carpentry on set.
'The Dark Knight's hospital explosion scene was planned and rehearsed, not improvised.
Patricia Ward Kelly debunked myths about her late husband's iconic movie 'Singin' in the Rain.'
In 2017, Morgan Spurlock admitted that he lied in the film 'Super Size Me' about not drinking alcohol.
Natalie Wood was most likely murdered by Robert Wagner, according to new evidence.
There's an urban legend that if you look closely, you can see a Munchkin hanging themselves during one scene in 'The Wizard of Oz.'
Frankie Muniz says he remembers filming 'Malcolm in the Middle,' despite rumors that he can't due to concussions.
No dead rats here! Jared Leto sent Margot Robbie vegan cinnamon buns while they worked on 'Suicide Squad' together.
The actress who played Jill Masterson in 'Goldfinger' died of skin asphyxiation (but not really).
The true story of Hinkley, CA is darker than in 'Erin Brockovich.'
Elvis Presley may have had a disease that caused paralysis of nerves in the colon.
No one died during the filming of 'Ben-Hur' (except for several horses).
'Arrival of a Train at La Ciotat' was the first documentary film, but reports of people panicking when watching it are likely fabricated.