25 News Stories That May Have Flown Under The Radar
There are three types of people in this world. People who enjoy this list of interesting facts. People who think the list is too long and meandering. And people who don't get what all the fuss is about.In my case, I am a person who doesn't get why all these fascinating facts exist, so I have decided to write them down for you. The reason being that if you can read these facts then I don't need to tell you anything else. And if you don't enjoy reading these facts, I don't need to tell you anything else. And if you are a person who thinks these facts are too long and meandering, I don't need to tell you anything else. And if you are a person who doesn't get what all the fuss is about, then… I don't know.My enjoyment of the list comes from the fact that I am very, very, very good at spotting patterns, and when it comes to spotting patterns there is no better place to start than with lists of interesting facts.
Man has shoes tattooed onto his feet because he's 'tired of paying' for new ones.
Millions of immigration files stored in caves, delaying citizenship applications.
New international border between Canada and Denmark splits Hans island.
Russian Climber holds the Ukrainian flag on Mt. Everest.
Woman finds more than $36,000 stashed in free Craigslist couch.
Spider-Man robot crashes in stunt gone wrong during show at Disney's Avengers Campus
Dog removed after entering gorilla enclosure at San Diego Zoo Safari Park.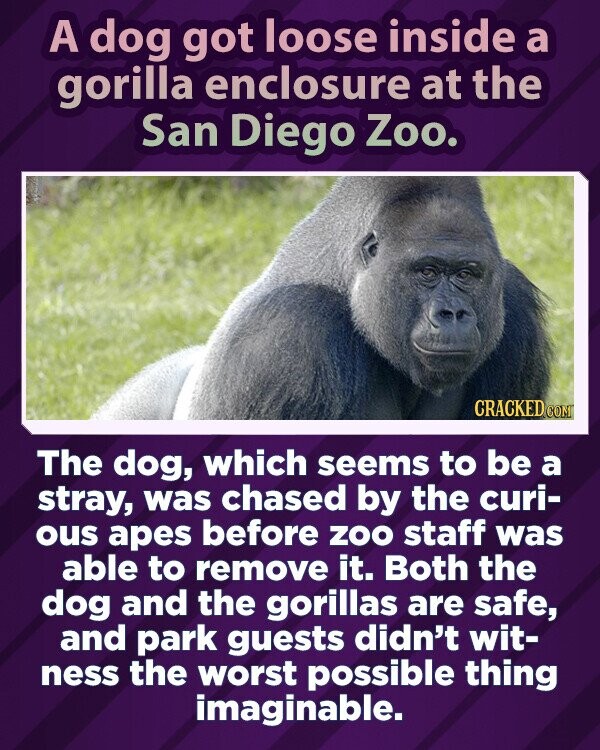 Lobster diver swallowed by humpback whale off Provincetown.
Man bitten by gator he mistook for dog in Florida, deputies say.
Man who raps about robbing ATMs arrested for robbing ATM.
QAnon cult leader predicts JFK will return to Dallas – again – this coming weekend.
Google engineer put on leave after saying AI chatbot has become sentient.
North Carolina company offers $2k to homeowners to release 100 cockroaches into their homes.
Sexy Swedish garbage cans seductively encourage citizens to properly toss their trash.
New York woman finds lost dachshund – in Hilary Swank's lap.
Bridge in Mexico collapses right after it is inaugurated.
United Arab Emirates bans Pixar's new Buzz Lightyear film.
Used cooking oil sees a spike in theft as the price of beans and gas increase.
'Girls smell better at 16 than at 28': Tory council candidate's shock remarks.
Australian traveler strip-searched, held in US prison and deported.
Man spent $600 building mini cinema for wild squirrels.
Goodie bag to promote US industry contained 'Made in China' gifts.