14 Answers To Questions (That We Never Thought To Ask)
We previously asked ourselves 14 Questions We Didn't Know We Wanted The Answer To, but our brains remain insatiable for answers to seemingly useless questions. Sure, we could ask "How to solve resource distribution inequality?" or even "Who let the dogs out?" but those questions sound like they would have really hard answers, so we'll settle for weird questions with simple answers. We have a wealth of knowledge at our fingertips, and our only restraint is thinking of the right questions to ask. (Well, that, and paywalls on scholarly research.)
Although many of us have thought, "Why is the sky blue?" when was the last time you thought, "Why are mammals not green?" Don't worry. Here at Cracked, the great minds behind some of the internet's longest listicles are here to ask the questions you've never dared to think. And then these noble minds did the brave Google searching to find the best sources for your answers. It's up to you, brave reader, to use that knowledge responsibly.
How many ATMs are in Antarctica?
Why was Han Solo frozen in carbonite?
Why does crying make your nose run?
Why do people pace while talking on the phone?
Why are carrots orange?
Why did Yukon Cornelius lick his pickax?
How are tattoos permanent?
Why did Hanna-Barbera characters wear neckties and collars?
Why are Greek statues poorly endowed?
Why do owls have to turn their head to see?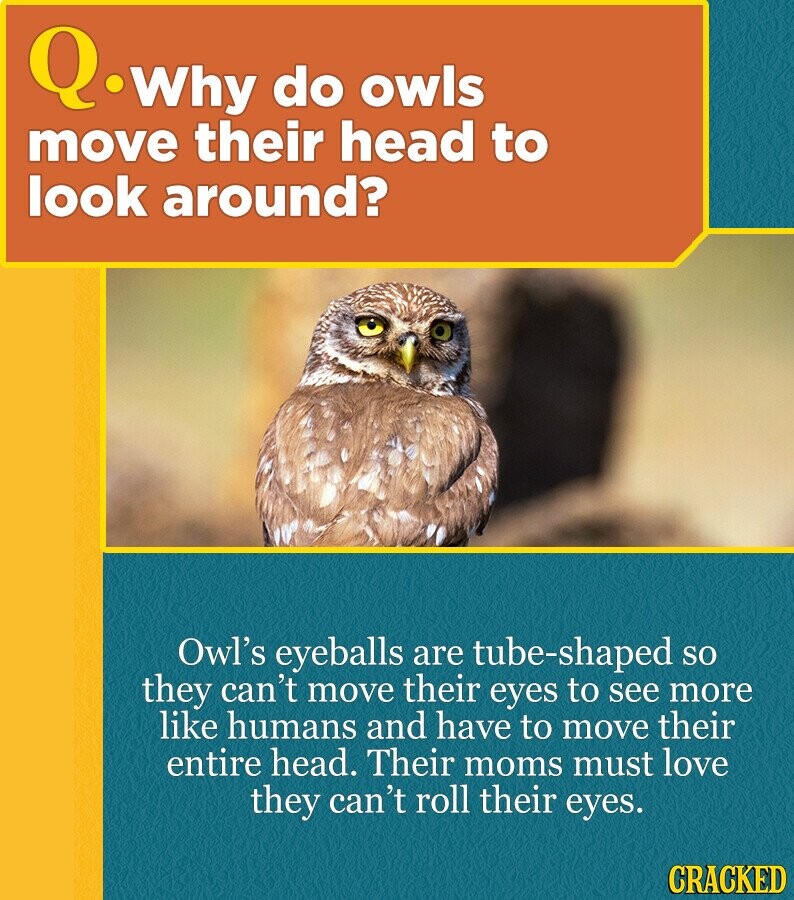 Why did 90s kids shows have forced educational messages?
Why are movie theater seats red?