5 Conspiracy Theories That PROVE This Election Is The Worst
The 2016 presidential election is well on its way to cementing its place in history's annals of crazy. But do you know who finds it even crazier? Crazy people! Conspiracy nutjobs and other tinfoil hat cases follow political news too, and just as is the case with everyone else, there are candidates they do and don't like. As such, the dark, sticky underbelly of the internet is inundated with madcap election theories that are somehow even more far-fetched than the accusations the actual candidates have been throwing around.
Ted Cruz Is the Zodiac Killer (Among Other Things)
Imagine waking up one day and finding out that the whole internet has decided you're one of the most famous uncaught serial killers in history. You know it's not true. For one thing, that's not the sort of stuff people just forget, and even if you had accidentally blacked out and gone on a murder spree, the timeline just plain doesn't work. But no matter how obvious this is, the internet doesn't care. You're the Zodiac killer now, motherfucker!
Now, picture that this actually happened, but to GOP candidate Ted Cruz instead of you. Things suddenly get ten sorts of hilarious, because let's face it, the dude hosts some pretty vile opinions behind his melty ventriloquist puppet face. The Cruzodiac first surfaced in 2013, when Twitter randomly connected the two in mockery of a particularly clumsy speech he gave, and spent a few years on the back burner before his presidential candidacy caused it to resurface and spread like wildfire.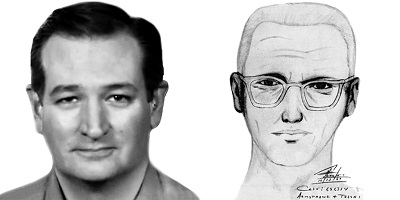 See? The resemblance is uncanny.
The fact that Cruz was born two years after the first Zodiac murder took place didn't matter. The internet had made up its mind. Despite the absurdity of the theory (or rather, because of it), social media and news sites alike caught on and had a Zodiac-themed field day at Cruz's expense. For a while, "Is Ted Cruz the Zodiac killer" was such a popular Google search that big G had to actually remove the phrase from its autocomplete suggestions. The pro-life Baptist Cruz even found himself featuring on Zodiac-themed black metal T-shirts, the profits of which went to support abortion rights, because sometimes karma likes to go balls deep.

The shirts have apparently raised at least $30,000. I suspect this is helped by the fact that they look nothing like Cruz.
Because the universe clearly has a chip on its shoulder when it comes to the Cruz family, Ted isn't even the first rumored famous murderer in his family. There's also a (gleefully Trump-enforced) theory that Cruz's father Rafael was involved in the assassination of JFK. And, as if to complete some unholy trifecta of Cruz-related terror theories, the internet has also claimed that Ted Cruz lives a secret double life as Michael Sweet ...

I can never unsee this image, and now, neither can you.
Scroll down for the next article