Digg This!: 7 Cheats for Hitting The Front Page of Digg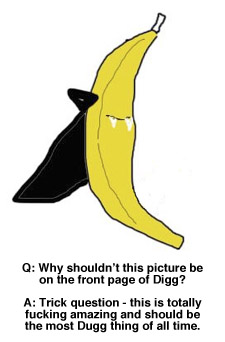 Are you tired of your awe-inspiring article, mind-shattering blog entry or rambling anti-government manifesto not getting the web traffic you know it deserves? Did you add a "Digg It" button to that brilliant epic poem you wrote about your recently-deceased cat, Twinkie, but nobody seems to be clicking it? Are you starting to suspect that MS Paint drawing of Draculanana might not be funny enough to make it to the front page of Digg after all? Think again. Digg, Reddit and all the other so-called "social media" sites can be a great way to get your message out to millions of people, but with so many voices out there screaming for attention it's hard to be heard sometimes--even if that 400,000-word poem about your dead cat is totally mind-blowingly awesome. But don't worry--in my time writing for

Cracked.com I've picked up a few useful tricks that might help you on your quest for Digg greatness. With a little luck you might just find yourself on the front page, where people will then proceed to argue about whether you're gay, retarded or a gay retard. Here's how it's done.
Option #1: Buy Some Diggs
Let's say you wrote an epic poem about your recently-deceased cat, Twinkie. That's not exactly the kind of thing that's going to shoot to the top of Digg's front page on its own, but you'd be surprised how far a little cash can go toward helping your Digg conquest succeed. (Just use the money you were going to spend on cat food--your dead cat isn't hungry anymore.) Let's frame the question another way: would you think a blog featuring nothing but pictures of crowds could end up on the front page of Digg? How many people would Digg something like that? As Wired contributor Annalee Newitz found out last year, the answer turned out to be 342. How, you ask? By paying $1 per Digg to a website called usersubmitter.com for an early push toward the front page. True, the story was eventually buried (because it was UNBELIEVABLY BORING), but if you want to enjoy a brief stint in the limelight, buying some votes might not be a bad way to go.
Scroll down for the next article