6 Popular Fan Theories That Don't ACTUALLY Work
At their best, fan theories are a really fun way to look at a movie that you know inside and out. It doesn't matter if they're true or even come close to being true. A good fan theory takes a story that's been seemingly picked apart and reconstructs it in a way that's often cooler than the original story.
At their worst, however, they're a boring stoner telling you that The Lion King is secretly a prequel to The Dark Knight Rises, but only if you play it backward. Here are six of the most popular plug 'n' play fan theories that people seriously need to stop reverse engineering into literally every story ever told.
Everyone Is Tyler Durden
One of the film's leads can only be seen by another one of the film's leads. Maybe they're a hallucination or a ghost, or a hologram like Al in Quantum Leap. But it all adds up to essentially the same thing: imaginary friend.
When Someone Nailed It:
Your first exposure to this theory, maybe your first exposure to fan theories in general, was probably in connection with Ferris Bueller's Day Off. The movie conveniently parallels Fight Club with a repressed dweeb seeking liberation through mischief with the help of a walking, talking wish fulfillment. That theory says that Ferris never existed at all ... he was made up by Cameron.

Sadly, I don't think a Brad Pitt rendition of "Twist And Shout" would be nearly as charming.

This theory is the essence of what makes fan theories fun. The plot holes (Why are they taking attendance in class for a kid who doesn't exist?) will always be there, but the theory brings some of the movie's themes and subtext into the foreground, giving us a closer look at why Cameron finds Ferris so appealing. Cameron probably didn't imagine Ferris, but if Cameron did have an imaginary friend, that imaginary friend would be Ferris.

Why It Doesn't Work Everywhere Else:

This is probably the internet's favorite fan theory. The only ingredients needed are one character to be imaginary, and another character to imagine them. It's hard to find a movie, TV show, or video game that doesn't meet those qualifications. You only need two characters. The activities on the back of a box of Franken Berry provide all the evidence you need in order to theorize that Boo Berry is a manifestation of the immortal Count Chocula's survivor's guilt.

One iteration of this trope has it that Steve Buscemi's Donny from The Big Lebowski was really a ghost that fought alongside John Goodman's character, Walter, in Vietnam.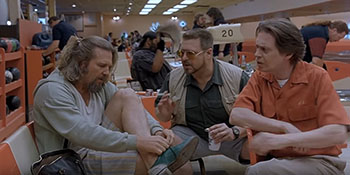 Poltergeist.

If this theory contributed anything worthwhile or showed us a different way of looking at Walter, maybe we'd be willing to try and overlook the fact that multiple people interact with Donny in the movie. Unlike Cameron, however, Walter is far from self-loathing. Unlike the narrator from Fight Club, he is anything but repressed. The biggest problem with the "Tyler Durden" is the fact that it's often shoved into a story with little thought as to the circumstances. Before you can add in a proper Tyler Durden, the character has to need a Tyler Durden.

The theory has been plugged into everything from Garfield to Rugrats and even back into Fight Club, which is about as arbitrary as theorizing that Tom Hanks was simply imagining Wilson the whole time.
Scroll down for the next article