'Son of the Mask' Was So Bad Jamie Kennedy Made An Entire Documentary About It
Son of the Mask is an objectively bad movie. After Jim Carrey turned down a reported $10 million to reprise his role from his 1994 hit The Mask (to the disappointment of at least one young contest winner), the project was naturally shelved indefinitely turned into a waking nightmare starring the dude from Scream. 
Yes, for some reason, Jamie Kennedy was tapped to fill Carrey's shoes in the long-gestating follow-up to The Mask, released a whopping 11 years after the original. To preserve the franchise's razor-thin continuity, Ben Stein was somehow convinced to take a day off from playing game shows and spreading pseudoscience to once again portray Dr. Neuman, the Nick Fury of the Mask Cinematic Universe.
Instead of a crowd-pleasing sequel, we got a depressing mess of a movie featuring a whole new cast of characters, ultimately predicated on the idea that Kennedy has sex while wearing Loki's magic mask and impregnates his wife, thus imbuing their child with cartoony superpowers. And please, won't you take a moment and spare a thought for the poor visual-effects artists who were forced to spend weeks, if not months, animating the "wacky sperm" sequence?
Naturally, Son of the Mask was received by critics as warmly as a staph infection. Richard Roeper told Roger Ebert it was the only movie he's ever considered walking out of.
Instead of accepting the criticism and moving on, Kennedy seemingly became obsessed with the negative reaction to the film — which, again, was mostly about a goofy CGI infant — and even produced and starred in a documentary about said obsession: Heckler (which is currently streaming on the Roku Channel).
Ostensibly, Heckler is a documentary about heckling, opening with a segment featuring comedians like David Cross, Patton Oswalt and Maria Bamford sharing horror stories about drunken assholes in comedy clubs. But then the film shifts focus, making the specious arguments that critics, specifically film critics, are basically hecklers, speaking to actors and filmmakers who have had terrible experiences with negative reviews. Scary Movie 3 screenwriter Craig Mazin laments that "nothing is good enough" for critics, except perhaps for critically-acclaimed series such as Chernobyl and The Last of Us, which he would eventually helm.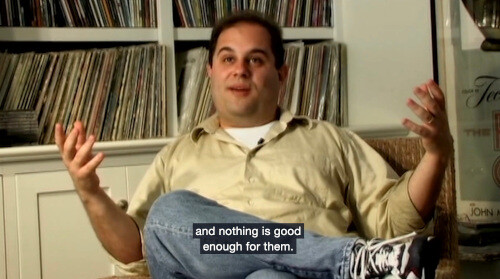 The doc does admittedly touch on some interesting points about unnecessarily cruel criticism. Carrie Fisher talks about misogynistic Star Wars reviews, and George Lucas drops this nugget of wisdom:
Also, the film's segment about anonymous blogging somewhat anticipates the full-on toxicity of the social media era. But it soon becomes clear that this is mostly just about Kennedy's hurt feelings, as he visits critics who panned movies like Son of the Mask and Malibu's Most Wanted and takes them to task for their dislike of his terrible body of work. After like an hour of complaining that critics are unnecessarily cruel and wildly hyperbolic, he starts ruthlessly mocking his critics on camera using wild hyperbole. 
He even takes Roeper to task for his Son of the Mask opinions.
Hopefully, Kennedy will never make Son of Heckler, all about the critical response to the film Roe v Wade.
You (yes, you) should follow JM on Twitter (if it still exists by the time you're reading this). 
Scroll down for the next article