Brad Pitt's Elvis Hair From 1991 Is Absolutely Incredible
People. You all need to look at Brad Pitt's hair immediately:
And this:
And oh my, this:
No, what you're looking at is not a set of stills from an early '90s commercial for some grooming product (even though it very much looks exactly like that). These are, in fact, screengrabs from Johnny Suede, the 1991 romantic musical movie starring That Hair, and also Brad Pitt. God, we can't stop looking at it.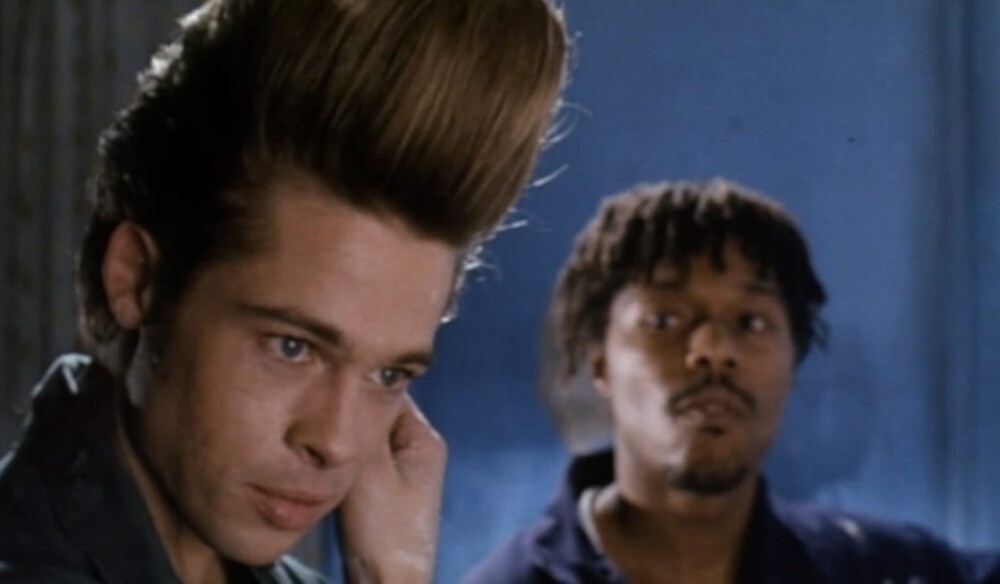 At first, we assumed no one told Pitt or the makers of this movie that the Big Hair '80s was over, but apparently that's just what a wannabe rock 'n' roller should look like according to these folks. After all, everyone knows that Elvis was the only Rocker to have ever existed in the United States, pre-Nirvana.
Brad Pitt was still pretty unknown when director Tom DiCillo started searching for his first movie's leading pompadour. Pitt had just finished shooting Thelma & Louise, but the rookie actor didn't have a lot on his resume yet. DiCillo, however, said that the moment he met Pitt he knew he'd not only found Johnny "Let Me Mop That Up" Suede, but also the next big movie star.
The producers, however, did not feel the same. They didn't want a "nobody" starring in their $500,000 budget movie about a guy who learns some life lesson thanks to a pair of magical shoes. So DiCillo simply dropped his producers and found new ones who agreed with him on Pitt's potential stardom. A risky move but one that ultimately paid off because, when the film was screened at the Locarno International Film Festival in Switzerland, a buyer from Miramax saw the movie and felt the same about Brad Pitt's star potential apparently pulsing underneath that hair. Or maybe it was because of the hair? Who knows how people reason?!
Nevertheless, that Miramax buyer managed to convince Harvey Weinstein to buy the movie even though Weinstein hadn't seen it yet. Holy hairball … was that Pitt's lucky hair? 
You can follow Zanandi on Twitter.
Top Image: Miramax Films
Scroll down for the next article