Unbeknownst to many CPAP users, insurance companies like to have your machine report to them so they can stick their non-medically-trained noses into your treatment. Between the non-consensual data collection and the regular leaking of medical data, the practice is galling enough. But if insurance companies find that you haven't been using your CPAP enough for their liking, they might cut off your access to the expensive devices for non-compliance.
In one example, a patient was prescribed a new mask. When it hadn't arrived in the mail after a few days, he called his insurance company to complain, only to be told that they wouldn't pay for the mask because he hadn't been using his CPAP machine ... because he had been waiting for the mask. It's an incredibly unsexy catch-22.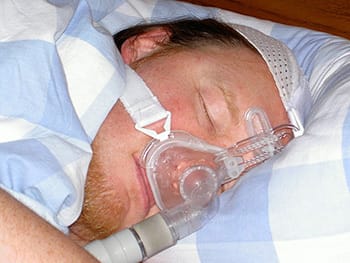 Michael Symonds, via Wikimedia CommonsSo remember, secretly watching a stranger sleep is illegal unless you're doing it to deny them medical care.
The response from the insurance company to all this was essentially "Our bad. We should have disclosed that we were watching you sleep." And hey, we understand that they don't want to pay for machines that aren't being used (because they turn a profit by forcing their customers to rent CPAPs instead of buying one outright), but there has to be a better monitoring method, right? We look forward to hopefully discovering it, as these privacy concerns are going to impact everything from Fitbits and Apple Watches to heart monitors and glucose meters.