It's also worth noting that the dialogue during this scene is muffled by the constant sound of gunfire, which will be a running motif throughout the program. We're soon introduced to some of the "biggest" stars in Hollywood who will compete in the event, such as Joe Mantegna, Guy Who Played Major Dad, The Sheriff From Murder, She Wrote I Think, and mega-celeb Yakov Smirnoff!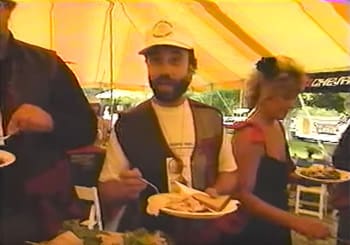 Celebrity ShootWho? Exactly.
As the stars party / line their pockets with free food, Brian Dennehy makes this ominous statement:
Celebrity Shoot"IF THERE ARE ANY LOW-FLYING AIRPLANES AROUND, THEY'RE IN TROUBLE TOMORROW ..."
Unfortunately, this narrative thread is left dangling, and we're never treated to any moments wherein Dennehy actually shotguns a passenger jet out of the sky. And if there was any doubt that this was the '90s, the cast of Beverly Hills, 90210 show up to fire off a few rounds at clay pigeons they all probably nicknamed "Shannon."
Celebrity Shoot
Celebrity Shoot
Celebrity Shoot