The 1991 event featured two celebrity hosts: Laura McKenzie and former NFL star Bob Chandler. While Chandler seems to be playing a kind of jackass who's shocked that women are able to compete in the event, he still uses his own name. Just an early example of the Charlie-Kaufman-like layers of postmodernism in the show.
Celebrity ShootOr CTE ...
They soon talk to the man of the hour, Charlton Heston. In a bold directorial choice, Heston appears to be imprisoned in the Phantom Zone during their conversation.
Celebrity Shoot
It's also worth noting that the dialogue during this scene is muffled by the constant sound of gunfire, which will be a running motif throughout the program. We're soon introduced to some of the "biggest" stars in Hollywood who will compete in the event, such as Joe Mantegna, Guy Who Played Major Dad, The Sheriff From Murder, She Wrote I Think, and mega-celeb Yakov Smirnoff!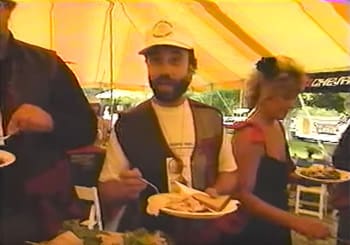 Celebrity ShootWho? Exactly.