Before Don Draper was smoking and drinking his way through the '60s and Breaking Bad was turning America's healthcare problems into a murder-filled adventure, TV wasn't usually considered a venue for high art. With "peak TV" yet to become a thing, programmers were less concerned with probing the existential depths of the human soul, and more with filling time so families wouldn't accidentally communicate with each other.
Now that we've embraced television as a vital artistic medium, let's take a critical look back and explore the largely forgotten television event that was celebrities shooting a bunch of guns for sport.
The Charlton Heston Celebrity Shoot was an annual charity event which featured celebrity gun enthusiasts, not a dystopic game show in which celebrities were hunted. The first Celebrity Shoot raised money for a foundation to help abused children. Subsequent events instead raised money for the NRA to help fund the U.S. Olympic Shooting Team, presumably because they raised enough money in that first year to end childhood abuse forever. Good job, everybody.
Heston's event sometimes aired on ESPN. And why not? It combined America's love of guns, America's love of vaguely recognizable actors, and America's love of solid gold eagles nestled in flashy fonts.
Celebrity Shoot
The 1991 event featured two celebrity hosts: Laura McKenzie and former NFL star Bob Chandler. While Chandler seems to be playing a kind of jackass who's shocked that women are able to compete in the event, he still uses his own name. Just an early example of the Charlie-Kaufman-like layers of postmodernism in the show.
Celebrity ShootOr CTE ...
They soon talk to the man of the hour, Charlton Heston. In a bold directorial choice, Heston appears to be imprisoned in the Phantom Zone during their conversation.
Celebrity Shoot
It's also worth noting that the dialogue during this scene is muffled by the constant sound of gunfire, which will be a running motif throughout the program. We're soon introduced to some of the "biggest" stars in Hollywood who will compete in the event, such as Joe Mantegna, Guy Who Played Major Dad, The Sheriff From Murder, She Wrote I Think, and mega-celeb Yakov Smirnoff!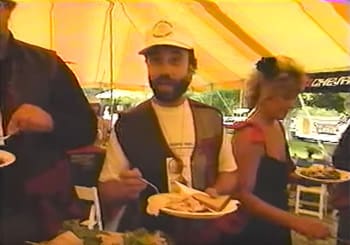 Celebrity ShootWho? Exactly.