Instead of bombs, they dropped copies of the script.
Fortunately, we don't have much time to mull over the ethical implications of all this, because the strike accidentally uncovers an ancient tomb:
Universal Pictures
And like all ancient tombs in movies, it's shaped like Clint Eastwood's scowling face.
Cruise, the guy from New Girl, and the woman whose map he stole with his penis are sent in to investigate. They discover an ancient mummy, but more importantly, the archaeologist lets us know that Cruise sucks in bed (and not in the good sense). As they're flying the Mummy back to England, after long stretches of dialogue about sexual inadequacy, the plane crashes and Tom Cruise fucking dies.
Unfortunately, the movie doesn't end there -- Cruise soon wakes up in a body bag, either because of the Mummy's magic or some kind of weird loophole in Dianetics.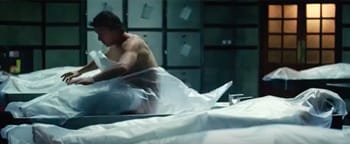 Universal Pictures
If you told us Tom Cruise sleeps inside a plastic bag at home every day, we'd fully believe it.
A moment later, Cruise's friend and two doctors walk in, and everyone's biggest concern is that they can see the dick of this guy who just cheated death itself. Anyway, the Mummy ends up getting captured midway through the movie, a plot development that probably feels familiar to anyone who wasn't in a coma between 2008 and now:
Universal Pictures, Marvel Studios, Warner Bros. Pictures, Eon Productions