Then the beloved Mr. Feeny gets stabbed in the back by a pair of scissors.
Disney–ABC Domestic Television
*hilarious sproing sound effect*
Furthering the show's descent into madness, a student shows up dead, which prompts another student to try to commit suicide by jumping out the goddamn window. Luckily a friend talks him out of it, but then less luckily, the masked killer shows up and throws them both off the building.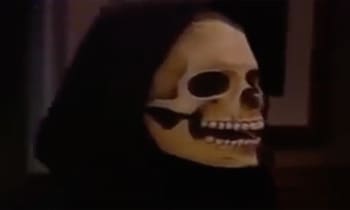 Disney–ABC Domestic Television
Get out of here, Skeletor, this isn't even your show.
Of course, it turns out that this whole continuity-ruining, murder-filled episode was a dream. In this case, Shawn was dreaming all this because Cory and Topanga broke up, and ... uh ... stress? Seriously, this is how he's processing it? Even more bizarre, instead of the episode's final moments ending with Shawn getting a CAT scan and years of therapy, the killer appears out of nowhere and sprints into the shadows.
Disney–ABC Domestic Television
Well, technically he sprints into the well-lit hall. But you know what we mean.
So it was all real? Or is this just a metaphor for Shawn's lingering psychosis? By the way, this wasn't a Halloween episode or otherwise something viewers might have braced themselves for -- it came out in February.
And this wasn't the last time the show dipped into the violent death well for inspiration. Later in the series, "The Psychotic Episode" (literally the title) opens with Cory straight-up murdering Shawn for no damn reason.
Disney–ABC Domestic Television
Maybe the stupid shirt was the reason.