This was odd, because the corpse quota on these shows was usually rather low. It's almost as if the show hired some former homicide cops to introduce the boys to the real world. Anyway, it turns out a serial killer is stalking the school, leaving messages written in blood.
Disney–ABC Domestic Television
An odd contrast to the Mickey Mouse ears in the corner of the screen.
Then the beloved Mr. Feeny gets stabbed in the back by a pair of scissors.
Disney–ABC Domestic Television
*hilarious sproing sound effect*
Furthering the show's descent into madness, a student shows up dead, which prompts another student to try to commit suicide by jumping out the goddamn window. Luckily a friend talks him out of it, but then less luckily, the masked killer shows up and throws them both off the building.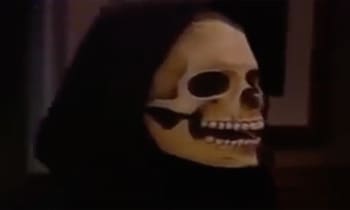 Disney–ABC Domestic Television
Get out of here, Skeletor, this isn't even your show.