The Doodler has been credited with as many as 14 victims, although it's likelier he was "only" responsible for around five or six. It's possible the other murdered gay men were rolled into his case erroneously, or because, you know, more killers means more paperwork.
The first killing was in 1974. By 1977, the police had gone "Ugh, fine," put together a composite sketch of the killer, and determined a suspect. They also had some witnesses, including someone who had been about to sleep with a man who matched the killer's description, only to "reconsider" when a knife fell out of his coat. We're not sure if the witness was creeped out, or if he decided the man was too much of a clumsy dork.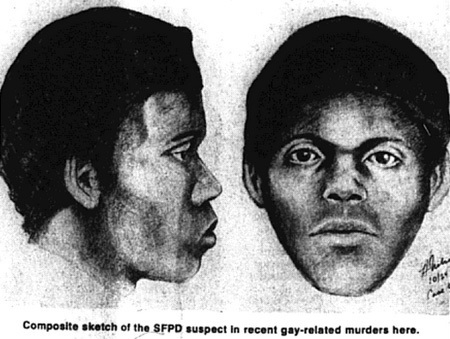 San Francisco Police Department"Sorry, you're not 'still make out after a knife fell out of your coat' cute."
The police were "fairly certain" they had the right guy ... but he walked free because no witnesses were willing to publicly testify. None other than Harvey Milk explained why, telling the AP that the witnesses probably feared the unemployment / social ostracism combo that came with being outed. It didn't help that in the same years the killings occurred, some San Francisco Police Department officers liked to cruise around undercover, pick up gay men, and then arrest them, at one point beating a "suspect" so badly that he suffered brain damage. So yeah, not the most approachable people in the world.
Eugene Register-GuardNote that the headline wasn't "Murder suspect free because we treat gays like shit."