The 6 Most Insane Batman Scenes Ever Written
We've seen many different interpretations of Batman over the years, from Adam West doing dad jokes in spandex, to Christian Bale chewing gravel, to George Clooney's heavily be-nippled take on the subject. And those are just the movie versions; if you read the comics, you'll know there's an order of magnitude more varieties of Batmen out there, some of whom are pretty damned wacky. For instance, we have ...
Batman The Hypersexual Pants-Wetter
Did you know that Kevin Smith wrote a Batman comic? This sort of makes sense; Kevin Smith is a celebrity, and a famously big comic fan, and has writing experience, so you can see how DC might have thought this was a good idea. And indeed, the result, Batman: The Widening Gyre was a good idea, if you like your Batman comics to read like highly sexual fanfiction.
That's Poison Ivy there, who pages later mentions that she's flowering cannabis, in case you'd forgotten for even a second that you were reading something written by Kevin Smith. And this is just like a sideplot; the real needlessly sexual meat of the story involves Silver St. Cloud, one of Bruce Wayne's old flings. Within seconds of her appearance in the book she's pretty casually discussing orgasms; apparently the Dark Knight gave her between 10 and 99 the first time they were together,
Silver then spends the rest of the comic boning our hero, aside from one bizarre interlude where he accuses her of being a robot and then attacks her.
But they make up, and it's sweet, and it's also pretty obvious that the point of all this is for Bruce to get attached to someone so that he'll feel bad when they (spoilers) die.
There's a lot else to hate here, from the slightly ropey art, to Baphomet, the one-off hyper-powerful vigilante who becomes Batman's best friend, and reads a lot like a fanfic Mary Sue character, to Silver St. Cloud again (we're not fans.) But what's truly inexcusable is how Widening Gyre takes one of the most iconic moments from one of the best Batman books, Year One ...
... and satirizes it into a joke about Batman pissing himself.
Thanks, Kevin Smith. And yes, if you hadn't guessed, he was totally baked when he wrote this.
We bet there was more than a little pants-wetting in there too.
Batman The Goddamn Psychopath
Can you imagine Batman cackling and blowing up a bunch of cop cars while Robin weeps in the passenger seat?
Well, it happened, in All Star Batman And Robin, a book penned by Frank Miller, which just made about half of you nod knowingly. For those of you that don't know, Frank Miller wrote some of the best Batman comics ever in Year One and The Dark Knight Returns. But in his later years he became somewhat known for his heavy use of violence and "mature" themes, sometimes to the detriment of the story he was trying to tell. All Star Batman's wide-eyed lunacy feels really bizarre if you're familiar with more mainstream versions of the character. It's like watching a stranger wearing Bruce's face tear-assing through the streets of Gotham with a kidnapped child in the trunk.
About that kidnapped child: The main plot of this gore-gasbord is how Batman first meets and kidnaps and trains Robin. Sort of like Training Day, with more bat-themed imprisonment. After adopting Robin more or less immediately after his parents have been shot, Bats locks him in the Batcave, telling him to eat rats and bats for sustenance if he gets hungry.
In another scene he burns a bunch of goons alive and bangs Black Canary while their corpses are still smoldering in the background.
It gets so bad that the Justice League gets together to discuss killing Batman to stop his reign of ... helpful crime-fighting. They ultimately send the Green Lantern over to talk some sense into him, and if you don't know comics, it might help understanding this next panel if you know that the Green Lantern's weakness is things that are yellow.
All Star Batman and Robin wasn't technically cancelled, but they sure haven't been making any more of them. Which means we're safe from crazy asshole Batman.
For now.
Batman The Hollow Earth Truther
Batman Odyssey is a confusing mess of conspiracy theories, flashbacks, flash-forwards, gun battles, and dumb. It's the worst thing to happen to the character in his near 80-year history, and that includes the time when his parents decided to cut out of that movie theater via the fire exit.
Batman Odyssey is mostly just Batman recapping his dumbest stories, the fictional equivalent of a friend who gets really high and won't shut up. Also, for some reason every chapter starts with a (probably) naked, (improbably) hairy Bruce Wayne giving you his best we-just-fucked eyes.
Also for some reason, Batman now has a casual, fast-quipping style of speaking, but without any sense of wit, the kind of thing that Joss Whedon would write after suffering a massive head trauma.
Amongst the stories that he's bragging to us about? Well there's the one where he became friends with a wizard and an alien, and learned that our planet is hollow and populated with dinosaurs.
The writer of this comic is Neal Adams, a die-hard expanding-earth conspiracy theorist, who is using this book to express his conviction that the planet is secretly expanding beneath our feet. At one point Batman even teams up with a Neanderthal version of himself, some dude called Jamroth Bok who dresses like a purple Batman and employs a dinosaur to act as his version of Robin.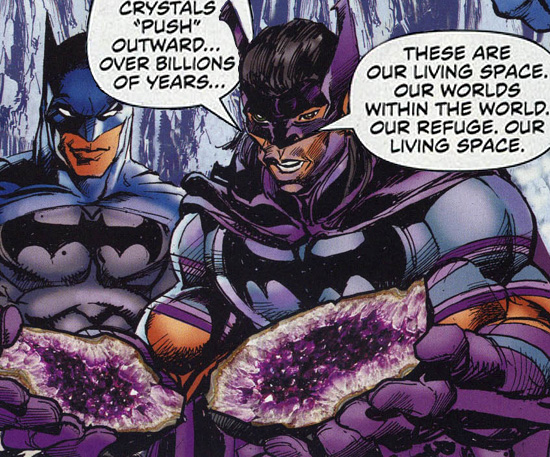 So yeah. Batman Odyssey is widely regarded as the biggest dog turd in a franchise that also includes Bat-Mite. This Batman is gone, and we're probably never seeing him again.
Which is kind of a shame. Given the obvious mental imbalances present in the character, it feels like there's a lot of room for a mini-genre of Batman getting neck deep in conspiracy theories. A Batman who flies the Batjet into the Gotham Trade Center to prove jet fuel can't melt steel beams, or a Batman who stops the Penguin and the NWO from vaccinating children, or a Batman who attacks a pizzeria for no real reason.
Hmm.
Ok, probably best that we don't see that.
Batman The Woman Creeper
Batman is almost always presented as a creature of the night, lurking and brooding and punching his way around Gotham in the twilight hours. But in The Brave And The Bold #102, we're treated to a scene of the Caped Crusader walking down a verdant avenue on the first day of spring. Birds singing, sun shining, all that. And does the Bat enjoy it? Yes he does! In fact, it gives him time to engage in his favorite hobby: checking out the talent.
We don't get a lot of this; there are still criminals to be punched, and indeed, they turn up in the very next panel, though not without one more line which is itself delicious: "Batman digs this day."
And off he goes to pound on some criminals. We don't normally have sympathy for Batman villains, but it's kinda hard not to in this case: This guy just ruined Batman's day of low-key creeping on girls. He's going to lose a lung for that and not totally understand why.
Batman The Islamophobic Racist
Frank Miller is back, folks, this time with a not-totally authorized take on the Dark Knight.
Holy Terror was initially Holy Terror, Batman! which was intended to be a lighthearted post-9/11 propaganda comic where Batman punches out Osama bin Laden and declares war on Islam. DC didn't seem to want that, and after Miller took the comic to another publisher, sans The Bat, we were left with a piece of racist trash in which a vaguely Batman-shaped figure kills the shit out of Islam.
Batman became "The Fixer," losing his bat-ears and logo in favor of some crimson drapes, though much like the Batman we saw in All Star Batman And Robin, he does retain the M.O. of "terrorizing criminals," and also "everyone else." Holy Terror is nominally about a series of bombs going off in Goth ... uh, Empire City, and it's up to the Fixer, an earless version of Catwoman, and a police pal with a fierce mustache to see that bloody justice is brought down on the turbans of those responsible. We're not being glib here; all the villains are named Mohammed, as far as Bat-Fixer knows.
In search of these terrorists, Bat-Fixer takes it upon himself to go to war against 1.2 billion people. "We'll give them what they want, minus the innocent victims" appears in a thought box over his head as he starts shooting. We're then treated to what can only be described as torture-porn, as the Fixer does unspeakable things to people probably named Mohammed for information that will lead him to the next guy probably named Mohammed. The whole thing reads like talk radio for comic books: one exhausting rant full of strong opinions, revenge fantasies, and racist name-calling.
It's a wonder it wasn't more popular.
Batman The Irrational Hater of Rock Music
Batman hates lots of things. Crime. Criminals.
... OK, so it's just the two things.
But in Batman Fortunate Son, we're shown a new version of the Dark Knight, one with a brand new hatred. Rock music.
It starts off with Batman and Robin investigating a Kurt Cobain-esque musician who may or may not be brainwashing his fans into committing crimes. Which isn't even that dumb for a Batman comic. Everything is going well until Robin dares to change the Batmobile's radio to something other than the Gothic chanting Batman normally listens to, at which point Batman's psyche implodes.
So why does Batman hate rock music so much? Well it turns out that before he took to crimefighting, Bruce Wayne was at a punk concert, where, as so often happens, a Sid Vicious-like figure trapped him in a web of heroin, spitting, and sex. This is admittedly speculation, as the Bat doesn't get into the specifics about the weeks he apparently spent with this dude. But they probably weren't playing Monopoly.
This might be an incredibly dumb turn of events, but at least we garnered an insight into Batman's psychology, which ... oh he never mentions it ever again? Well then.
And while this is dumb and also stupid, it does lead to a fantastic interlude, where in his quest to cure Robin of his sickness, Batman takes him to the hitherto-unknown ward at Arkham Asylum dedicated entirely to treating Elvis impersonators.
They should have set the whole comic here. They should set all comics here.
When Marina and Adam aren't ruining everything you love, you can find them on Twitter. Adam also has a Facebook page, but that's only for the coolest kids. You wouldn't be interested.
For more bad looks for the Dark Knight, check out The 7 Stupidest Attempts to Reinvent Batman and The 6 Most Brutal Murders Committed by Batman.
Subscribe to our YouTube channel, and check out Modern American History (As Taught by Batman Movies), and other videos you won't see on the site!
Follow us on Facebook, and we'll follow you everywhere.
Scroll down for the next article