20,000 go home afterward. 10,000 are retained to tend to raise crops.
So Guyot decided to take his show on the road, with the apparent mission of introducing the Ozarks to a little culture beyond Toby Keith bootlegs. Like Guedelon Castle, the Ozark castle would take decades to build, with the project being funded by the many curious sightseers eager to behold the endlessly fascinating, majestic spectacle of ancient masonry.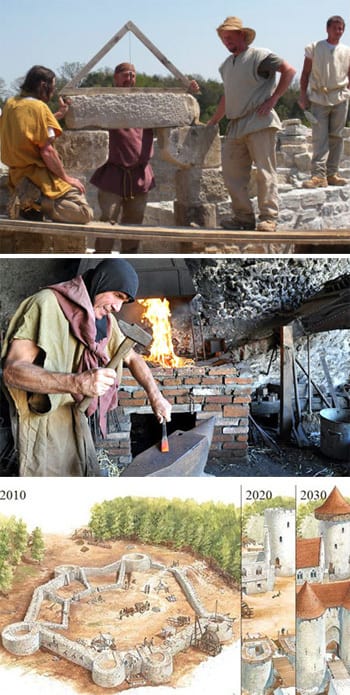 Ozark Medieval Fortress, Arkansas Times
"Wake up kids! We're at literally the last place you wanted to go this summer!"
However, Guyot overestimated how much Americans get worked up over peasants pushing wheelbarrows and stoneworking demonstrations as compared to their European counterparts. After breaking ground in 2009, not even 10 percent of the expected visitors bothered to show up, which led to a drastic mark-up in ticket prices and the site manager returning home to France for "personal reasons." And thus, the workers and other staff gradually scattered and left to take the skills they had learned and seek their fortune elsewhere. Fortunately, there are plenty of places in Arkansas where you can live like a Medieval peasant.
James Dahlquist