After a while, Americans had their own set of wood-centered folk tales and one guy collected them in a 1910 anthology called Fearsome Creatures Of The Lumberwoods. Unlike their European predecessors, these stories explained the horrific accidents and strange phenomena the average logger stood a chance of experiencing during his time among the trees. It's basically the estranged, drunk, flannel-wearing uncle of Fantastic Beasts And Where To Find Them.
Among the creatures listed in the book was the Hidebehind, an intestine-eating monster that hates alcohol so much that the only defense an honest logger has is being drunk as often and as thoroughly as possible.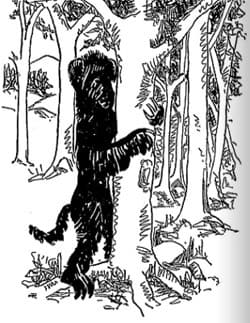 Margaret R. Tryon
It's not actually that good at hiding, or cleaning up afterward.
Then there's the Dungavenhooter, which will beat you into gas and f**king huff you like a high schooler with a fistful of markers. They actually prefer drunks -- the Dungavenhooter, not the kids -- so it's theoretically impossible to protect yourself from both a Dungavenhooter and a Hidebehind. This presents quite a conundrum for the aspiring lumberjack... or anyone who has to go into the woods for any reason.
Margaret R. Tryon
Hank there gets by drinking liquid ecstasy.