What about the Agropelter, which'll cave in your skull and rip your arms off? They were said to specifically hate loggers, rather than human beings in general. Think of them as hyper-aggressive Loraxes; they don't just speak for the trees, they break off pieces of those trees and bash unsuspecting lumberjacks in the dome with them.
Margaret R. Tryon
And break pieces off you too, of course.
The Rumtifusel, meanwhile, pretends to be a fine mink coat, then wraps itself around the person who touches it and sucks him or her down to the bone with hundreds of tiny pore-like mouths. It was probably invented to explain owl pellets (they're meant to be the fluttery remains of the clothing left behind by the victims), and it's just ... horrifying.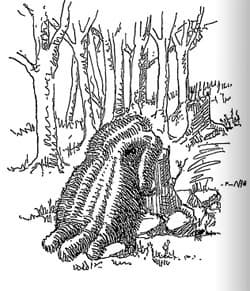 Margaret R. Tryon
Pictured: Something easier than explaining owl shit apparently.