Oh, it also didn't help that the film followed the template of the second-worst installment of the franchise, Temple of Doom, and strayed from Indiana Jones classic strong points: findin' Christian relics and punchin' Nazis.
The better film they teased us with:
Crystal Skull does confirm something we always thought about Indiana Jones: Dropping him into WWII would be badass. The fourth installment plays all coy with us, dropping hints about the awesome stories we missed:
INDY: What exactly am I being accused of, besides surviving a nuclear blast?
FBI 2: Nothing yet. But frankly your association with George McHale makes all your activities suspicious, including those during the war.
GENERAL BOB ROSS: Are you nuts? Do you have any idea how many medals this son of a bitch won?
FBI 2: A great many, I'm sure.
Paramount Pictures
"And I'm not talking about the last three movies, unless they give medals for breaking shit."
Why tease us with that?! There's so much source material there for killer Indy stories. It's not like it's difficult to speculate how he might have earned those medals. Perhaps it was when he beat the Nazis to Atlantis...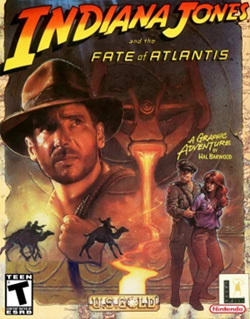 LucasArts
You don't know the Indy theme till you've heard it in 8 bits.