The 5 Most Hilariously Creative Video Game Trolls
Generally speaking, trolls are horrible monsters to be avoided at all costs. Both in folklore, and on the internet. Except in -- and we hate to even admit this, because every unfunny dickhead reading will take it as an excuse to spew bile at minorities - some exceedingly rare circumstances, where trolling is downright hilarious. Though it should be noted that most of these humorous instances occur in the low-stakes world of online gaming, as opposed to, say, the high-stakes world of U.S. politics.
Metal Gear Foes Are Powerless Against The Mighty Cardboard Box
Overpowered weapons ruin a game faster than quick-time events. Except, of course, when that overpowered weapon is something hilarious, like a cardboard box and a ladder. That's the case in Metal Gear Online, in which you can take out skilled assailants wielding assault rifles using nothing more than a half pound of corrugated paper.
As originally designed, the cardboard box isn't supposed to be a weapon. It's a disguise to fool NPC guards hot on your trail. In online play, it shouldn't be of much use: other humans are perfectly capable of filling your cardboard box full of lead. Even worse, the box doesn't let you attack anyone, except for a mostly harmless tackle. But as YouTuber TheRob5896 found, tackling with the box on is far easier than tackling without it, and in the right circumstances -- say, when someone is on top of a high tower that can only be accessed by ladder -- that makes the box an impossibly frustrating weapon.

"Hey, check out my Amazon Prime cosplay!"
Once in position, all he has to do is wait: As soon as enemies reach the top of the ladder, the box's enhanced tackle sends them screaming to a horrible death before they have the chance to attack. This would be incredibly annoying if it didn't look so damn ridiculous.

Your character has time to take a smoke break, for God's sake.
Wrecking players armed with devastating firepower by running into them with your recycling is possibly the most satisfying thing this side of popping bubble wrap.

"I CAME IN LIKE A WRECKING BALL CARDBOARD BOX!"
Plus, the box-related puns are practically boundless.

"Happy Boxing Day."
Employ The Ancient Art Of Ninjutsu In Dark Souls
Dark Souls is a notoriously tough, mostly single-player action RPG, which includes only one very simple online mode: other players can occasionally invade your world to try to kill you, while you try not to throw your controller through the wall. That's why it's so satisfying to watch GuardianHX confuse the living hell out of his invaders, frustrating them to the point of an existential crisis. By perfectly selecting his armor and weapons, he makes his character look exactly like a low-level enemy. Using this camouflage, he can enjoy the mind-melting anger of his attackers, who go ballistic when they can't find him -- despite the fact that he's standing right in front of them.

"He went that way! Has a huge penis, can't miss him."
See, Dark Souls maps are made in a way that makes it nearly impossible for players to actually hide from one another, but does not explicitly show one player where the other is -- so invaders run back and forth, searching fruitlessly for somebody's day to ruin, unaware that the day being ruined is their own.

"Goddammit, are you in these boxes!?"
Sometimes he even manages to land a couple of firebombs on the invader (which an NPC should not be doing) without them noticing.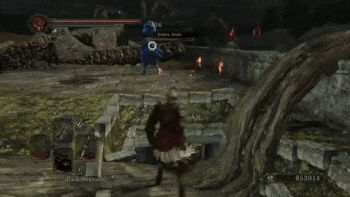 "Ow, I must have stubbed my toe."
Player ValeBreck turns his foes into inept security guards in bad action movies: Continuously writing off obvious signs that something is up.

"Nah, those guys always wear animals on their heads."
Nudge Deadly Vehicles Into Your Enemies In Battlefield 4
Fuck snipers. There, we said it: Hidden in some remote perch, they rain down instant death without any opportunity for retaliation. You can try to fight sniper fire with sniper fire, which leads to everybody patiently waiting in place for nothing to happen, you can try to charge their nest which results in you dying (again), or you can just sneak up on them and crush their stupid bodies by flinging vehicles at them. Well, you can in Battlefield 4, at least.
As YouTuber Russkhof skillfully shows us, this game makes any moving vehicle, no matter how slow, so lethal you'd think they hired Mothers Against Drunk Driving as physics consultants.

Motorcycles: The silent killer.
It works with basically everything, from dirt bikes to watercraft.

Unfortunately the killcam doesn't include the two minutes they spent knife jabbing it up a hill.
See, in this game, the gentlest breeze -- provided it causes a dirt bike to graze your toe -- is as lethal as an anti-tank mine. So by sneaking up on that bastard camping sniper and "pushing" a vehicle into him, you can smash him in the most humiliating way imaginable (this side of your own testicles).
In Call Of Duty, Crush Your Victims With Care
Call of Duty is a first-person shooter in which you are "called" to some kind of "duty," which often involves blasting Russians in the face. The guys at The Ninja Academy would rather kill with kindness. Instead of pumping the other team full of depleted uranium, they summon thoughtful care packages ... of doom.

"Oh man, I totally get why birds love car pooping now."
If you place a smoke grenade at the feet of another player and time the package delivery just right, you can actually crush your victims with power-ups.

"Anyone else hear a beeping noi--"
Seduce Your Opponents In Team Fortress 2
Team Fortress 2 is a team shooter with a seemingly harmless, fun little feature that allows players to paint their image of choice onto the level's walls. This being the internet, of course, those images quickly turned to pornography. This being online gaming, of course, that pornography was used to kill people. Enter player McDuck. First, understand that the spy character in Team Fortress 2 has the ability to camouflage himself and stab opponents in the back, killing them in one hit. It's normally quite difficult to sneak up on quickly moving players, but McDuck employs a classic espionage trick that the internet cannot help but fall for: the honeypot.
He spray paints a provocative image of a girl on the wall and waits, camouflaged, for some poor schmuck to come up and take a good long gander up close. McDuck then steps out of the shadows and stabs them straight in the spine.

The saddest is when they re-spawn and come right back for a second look.
He kills so many people this way you start to wonder if Maxim should be classified as a weapon of mass destruction.

Noobs <3 boobs.
And if killing opponents while they're mesmerized by 64 pixels that kind of look like a lady isn't humiliating enough, you can even employ special items that turn your victim into a statue, so that no one will ever forget their sins.

"Eh, not the worst view for the afterlife."
Think Nana and Pop-Pop's loving 60-year monogamous relationship is quaint and old-fashioned? First off, sorry for that disturbing image, but we've got some news for you: the monogamous sexual relationship is actually brand new relative to how long humans have been around. Secondly, it's about to get worse from here: monkey sex.
On this month's live podcast, Jack O'Brien and the Cracked staff welcome Dr. Christopher Ryan, podcaster and author of 'Sex at Dawn', onto the show for a lively Valentine's Day discussion about love, sex, why our genitals are where they are, and why we're more like chimps and bonobos than you think.
Get your tickets here:
For more trolls we kind of admire, check out 6 Hilariously Creative Ways People Are Trolling The Internet and The 5 Most Clever Ways People Made Hate Groups Look Stupid.
Subscribe to our YouTube channel, and check out The Internet Troll Hall Of Fame, and other videos you won't see on the site!
Follow us on Facebook, or don't and we'll just be very sad.