After Pluto is captured, the abductor pulls off his hood to reveal himself as the Mad Doctor, a deranged man with plans to attach Pluto's head to the body of a chicken, a complicated surgical procedure requiring a bloody hand saw and absolutely nothing else.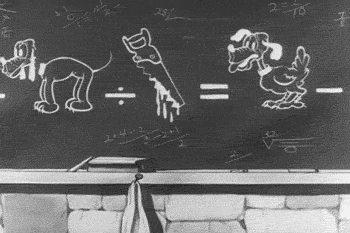 Walt Disney
Honestly, every part of this equation is equally confusing.
In one of the more surreal sequences of horror in the history of cartoons, the Mad Doctor hangs Pluto on a hook and cuts his shadow in half with a pair of scissors. Pluto is forced to watch as his shadow's corpse hangs limply from the ends of a fork, as if half of his soul is now dead. It's equal parts body horror and existential crisis, like Salvador Dali making a flipbook to describe weeks of penis torture.
Walt Disney
Holy fuck.
Things don't turn out much better for Mickey, who stumbles into a trap and finds himself strapped to a gurney beneath a relentless saw blade, with a single blinding spotlight in place to illuminate his final shrieking moments.
Walt Disney
Luckily, all those crunches paid off for Mickey.
In the end, it turns out it was all a dream, which honestly doesn't do much to soften the crippling blow Disney has dealt to the world's children. To give you a sense of how disturbed everyone was by this cartoon, The Mad Doctor was banned in Great Britain and Nazi fucking Germany. That's right, this cartoon was so terrifying that it freaked out the Nazis. The Mad Doctor character was brought back for the Epic Mickey video game series, but that seems less an artistic decision than the result of a failed exorcism.