The story begins with Pluto being dragged away from Mickey's home by a dark hooded figure. The fear in Pluto's eyes and body language is so lovingly animated that it makes us wonder how an experienced dog murderer found the time to become a Disney animator, because that's clearly what happened here:
Walt Disney
"I can't quite get the panic right. Bring in another model dog!"
After Pluto is captured, the abductor pulls off his hood to reveal himself as the Mad Doctor, a deranged man with plans to attach Pluto's head to the body of a chicken, a complicated surgical procedure requiring a bloody hand saw and absolutely nothing else.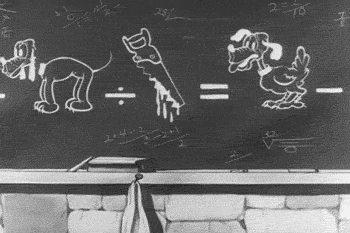 Walt Disney
Honestly, every part of this equation is equally confusing.