Then the game suddenly comes to a screeching halt, because now you have to play babysitter to some random computer-controlled character with the survival instinct of a drunken kitten and make sure they get to the end of the level without getting murdered by enemies or stumbling blindly off a cliff. This is called an escort mission, and it is the bane of gamers everywhere, because it takes the parameters for success or failure almost entirely out of your hands. After hours of attempting to pass this mission, you're no closer to escorting your new friend across Space Normandy, so you turn off the computer, sell the game, and begin abusing heroin, confident that it will be better for your stress levels in the long run.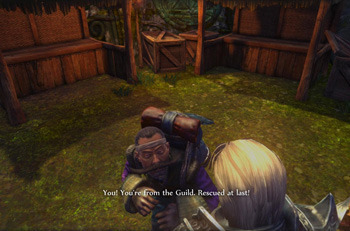 Microsoft Studios
Still beats the shit out of Fable.
Yes, escort missions are terrible affairs. At best, they're designed just to pad out a game's length. At worst, they form a vital part of the game's content, so much so that any good or fun aspects of the game are brutally clubbed to death like an angry gorilla with a table leg, like in Metal Gear Solid 2, a game that seemed to be created for the sole purpose of angering fans of Metal Gear Solid. Consequently, many gamers long for the days when escort missions were but a twinkle in the eyes of the terrible assholes who would eventually create them, and video games were all about you dominating a sea of enemies without having to be bothered with anyone's well-being but your own.