Rats are no different: No matter how sealed up you think your dwelling is, be assured the rats will find their way in if they want to. They can get in through almost any sort of vent, and you can't just throw something in there to block their path. One study found that small rats think nothing of lifting barriers of over a pound to explore a new environment or even just to get to a type of flooring that they like better. They can also squeeze their bodies through holes no bigger than a quarter. They're basically the T-1000s of nature: You slam the wire-mesh fence shut on them, and they just ooze right through it.
Wikipedia "Is he gone?"
Another preferred rat highway is the inside of your pipes, as small as 1.5 inches in diameter. Rats also happen to be champion swimmers. Combine these two things and you have an animal that can and does enter your house through your toilet. That is a real thing that really happens, and coincidentally, we will be pooping into a modest but secure floor safe from now on.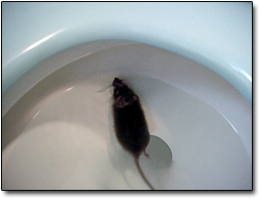 EraPhernalia Vintage It's like the Room 101 of asses.
By now, of course, you've run to cover every single tiny opening in your house to keep the unceasing, steady advance of the rats at bay. But that's cool by the rats, friend; they can always just chew directly through your walls.
IRRI images In conclusion, rent property in the vacuum of space.