On one occasion, he challenged a man named Charles Dickinson to a duel, (the reason behind it wasn't important, not to us and certainly not to Jackson), and Jackson was even kind enough to give Dickinson the first shot. We're gonna go ahead and repeat that: In a duel with pistols, Jackson politely volunteers to be shot at first. Dickinson happily obliged and shot Jackson, who proceeded to shake it off like it was a bee sting. When Jackson returned the favor, Dickinson was not so lucky, and that's why his face isn't on the twenty. The bullet, by the by, remained in Jackson's body for 19 years because, we assume, Jackson knew that time spent removing the bullets would just fall under the general category of "time not dueling," Jackson's least favorite category.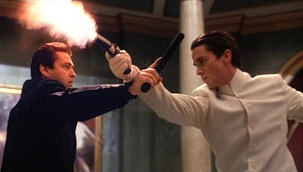 Andrew Jackson may have been the first master of Gun Kata
Greatest Display of Badassedry:
Andrew Jackson was the first president on whom an assassination attempt was made. A man named Richard Lawrence approached Jackson with two pistols both of which, for some reason, misfired. With the possibility of an assassination taken off the table, Jackson proceeded to beat Lawrence near death with his cane until Jackson's aides pulled him off the assassin.
The guns were inspected afterward and it was discovered that they were in perfect working order, leading some historians to believe that it was an odds-defying "miracle" that Jackson survived, while we're pretty sure that the bullets, like everyone else, were simply scared of Jackson.
Most Badass Quote:
"I have only two regrets: I didn't shoot Henry Clay and I didn't hang John C. Calhoun."
That's right. In a life rich with murdering people for little-to-no reason, Jackson's only regret was that he didn't kill quite enough people. People like Calhoun who, it should be noted, was Jackson's vice president.