The 15 Most Sexually Unappealing Porn Titles
The adult entertainment industry is renowned for its ability to churn out an incredible volume of movies each year. One has to wonder how they keep coming up with titles, when so many of the films cover such similar subject matter (fucking).
Well, as it turns out, a whole lot of them are horrible and, with one glance, can turn you off the idea of porn (and even sex) for a very long time. Here are some of the worst. For your protection the graphic sexual images on these DVD covers have been covered by this image of the lovely Amy Winehouse.
Crack Whores of The Tenderloin
First of all, this movie gets huge props for the Kill Bill homage, if you consider this an homage. Regardless, that rocks. What else rocks? Tenderloin, the most manly food on the planet. However, if you actually meet a crack whore and she's carrying that, fucking RUN.
ATM Machines
Unlike the normal everyday use of "ATM Machines," this title is not a redundancy. In the porn world the M stands for "Mouth," and the AT standing for "Ass To." Yeah. Good thing they've got a machine to take care of that.
Don't Tell Mommy
Oh, wait. This. This could be less arousing. Though, to be fair, the girls of Don't Tell Mommy appear to be in their early 30s.
Faces with Braces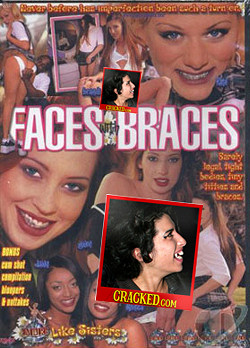 Keeping on the same theme, you can live out all your erotic orthodontic fantasies with this pedophilia dreamporn, as performed by 25-year-old adult film actresses who paid for braces only so they could be in movies like this.
Edward Penishands
This movie was clearly made for one purpose only--joke gift. Or, as a real gift for little Billy, who asked for the Edward Scissorhands DVD. You'll teach him some important lessons about the world.
Interview With an Enema
Another lazy one. Seriously, a professional porn-naming person couldn't at least come up with Interview With a Vampwhore? Or was it already taken?
They clearly were desperate to get the word "enema" in there but why would the porn world be obsessed with seeing some girl get her anus cleaned out?
Mouthful of Ass
Oh, right.
Dude, Where's My Cunt?
This is actually the fifth edition of Dude, Where's My Cunt? and we're pretty sure the answer is the same every time. She left because you kept referring to her as "cunt."
Big Omar's British Adventure - London Cunt Hunt