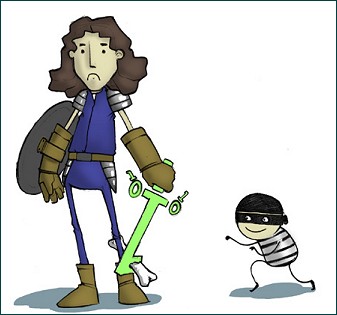 Rendered in 4.16 seconds, Nedroid Artsoft V 1.6
The victim worked many hours to "earn" the object. The victim used it daily and depended on it. He derived happiness and satisfaction from it. So why shouldn't depriving him of it be punishable by law? If you say, "but it's just something he used in a game," I'll say that golf is also just a game. Want to see what happens to me when I steal a new set of golf clubs?
If you say, "but the Bonebiter doesn't even exist," I'll say it exists in exactly the same way that the songs and software I download off Bittorrent exist. And yet, stealing them is a crime. The only difference is that when I steal a song, nobody else is deprived of the song. When that guy stole John's Bonebiter, he was left unarmed and forced to go find a replacement. That theft actually hurts more, not less.
So when will we start to see laws prohibiting the theft and misuse of game-world objects? As soon as members of the gaming generation become lawmakers, that's when.
4. You'll meet someone who plays an MMORPG for a living.

Let's take this a little bit further. You earn gold in World of Warcraft, gold with which you can buy these in-game objects. If this game gold is truly valuable to my life, if it lets me get more value out of the pasttime I already pay real-world money for, what's to stop me from paying real money for game money? Nothing. Go to Ebay and do a search for World of Warcraft Gold and let your jaw drop open.

Here, we have game currency being traded for real currency, and at a better exchange rate than the Iraqi Dinar.

If we go further, still, we can imagine a person winning rare weapons and selling them on auction sites or directly to other players they meet. We can imagine somebody working full time to gather in-game gold by slaying gold-shitting squirrels (or whatever you do to get gold in the game) and then exchanging it for real dollars to pay the real rent with. Sure, it may be decades before you see this kind of ...

Oh, wait. There are people doing that right now.

And, if you're chuckling and shaking your head at the glazed-eyed geeks who can't tell the difference between game money and real money, let me ask you something: When Square bought Enix for $727 million two years ago, do you think they actually stacked crate after crate of cash on a flatbed truck and then drove the $727 million over to their offices?

No. That money only existed as numbers in a computer. In fact, not even 10 percent of the money in the American economy exists as physical, printed currency. All of the rest exists on servers and hard drives and in the imaginations of the people. It has value for the exact same reason WoW gold has value, because people think it has value.

I'm guessing that if you started this article thinking it was a joke, this is the point when you sobered up and realized that, as author H.G. Wells predicted, "the future will accost us with boob-slapping ferocity."

5. They'll take the "G" out of "MMORPG."

We'll stop thinking of the online world as a game right around the time you find yourself strolling through Witchblade Village, or some such fictional online town, and see a Target store open there. You'll enter it just like you do the in-game stores, and you'll be able to view the merchandise in real time 3D, pick up objects and turn them over in your virtual hands, and buy them the same as if you did it on Amazon.com.

So now our fledgling metaverse isn't just a place to slay computer-generated dragons and Nazis. Now, it's where you go to shop, to chat, to have cybersex with actual nudity and everything.