The ridiculous "I'm not on steroids, I just spend all of my time in the gym" argument is a classic denial strategy that has been employed by the likes of Barry Bonds and Lance Armstrong. It's basically the equivalent of saying, "I'm not on cocaine because I stay up all night dancing like a douche bag and gritting my teeth." We bet this guy spends a lot of his time in the gym, too.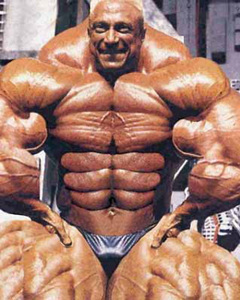 While the L.A. Times article doesn't come down on either side of the steroid debate, we're going to side with the hip-hop bloggers, who have taken the much bolder stance of, "nigga look like the incredible hulk. gay shit," and more specifically, "yeah dre is full off that act right JUICE. Lol".
Couldn't have said it better ourselves.
Why Would He Do It?:
From 50 to the Game to Busta Rhymes, Dre's entire Aftermath label is full of guys who look like, and wear shirts about as often as, professional wrestlers. Regardless of the reason, it makes us long for the days when rappers wore North Face in the summer and let their glocks do the talking for them.