... then he played the scrawny guy in no less than 1,000 AT&T ads.
Then, possibly in preparation for a joke that involved some especially heavy props ...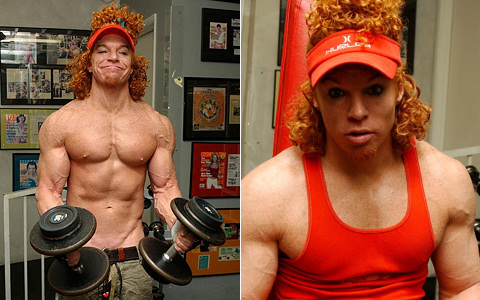 ... he turned himself into a monster from a horror movie.
He Claims:
Well, he has this video which is supposed to detail his diet and workout routine. However, Top seems confused by the high-protein cooking ingredients and doesn't seem to know how to work most of the exercise machines.
Incidentally, the video was also advertising a product called "Plasma Ball," which we almost ordered because we thought it would let us shoot balls of energy like in Street Fighter 2. It turns out it's just a workout supplement.
So Is It Steroids?
In body builder slang, vascularity is the degree to which your veins bulge through your skin, and according to the body building forums we frequent, the veins bulging from CT's arms, shoulders, neck, face and eyeballs indicate he's getting chemical assistance other than the two-drink minimum at the comedy club.
Then again, this is the same body building forum where someone said, "Like or hate his shtick, it's pretty physical so I can see where he'd have to be in shape." So, we may not be dealing with guys with MDs behind their names, here.
Why Would He Do It?:
We couldn't figure out why a comedian would need to make himself so physically imposing. Then, we put it all together.
He's got a nickname that corresponds to his looks;
His incessant visual punning gives him an annoying gimmick;
He appears to have some recent chemical burning of his face and corresponding spackle makeup.
That's right: Carrot Top is a Batman villain.