Generally, having a bad vacation means getting in a fight with Mom at Cracker Barrel, finding bed bugs in the B&B, pooping yourself at a national monument, or watching a Band-Aid float toward you in a water park. It doesn't usually mean getting stabbed by a prison gang or being conscripted into a foreign army. Notice we said "usually" ...
A Honeymooning Couple Gets Caught In Six Different Natural Disasters
Dax Castor/Wiki Commons
Swedish lovebirds (laftborks?) Stefan and Erika Svanstrom set off on their honeymoon in 2011 to Cairns, Australia with their infant daughter in tow. Not every honeymoon goes according to plan, but the Svanstrom's trip was like a game of Whack-a-Mole with various catastrophes. These people had such absurdly bad luck that we can only assume they broke a bunch of mirrors over an Indian burial ground.
First, their flight to Australia was held up by an epic snowstorm, which stranded the Svanstroms in a German airport. So far, not bad. Weather messes up flights all the time, and seeing as how Erika previously survived the 2004 Indian Ocean tsunami, this was practically a cakewalk.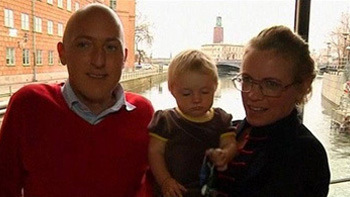 BBC
No, seriously. Why does God hate their rec time so hard?
The Svanstroms got another flight, but when they finally made it to Cairns, a massive cyclone struck the city and the couple was forced to hide out in a shopping mall for 24 hours. They planned to head to Brisbane, but then that city was promptly hit by a massive flood. Instead, they went to Perth. Perth, of course, immediately burst into flames.
Tasnim News Agency
It was the safest the city had been in years.
Australia wasn't going so great, so they headed off to New Zealand -- a peaceful land of sheep, hobbits, and quirky film characters. Unfortunately, their intended destination, Christchurch, was heavily damaged in an earthquake and the resulting floods. The Svanstroms finally decided to give up on that continent and head to Japan. In February. Of 2011.
William Saito/American Association for the Advancement of Science
That's right. Just in time for the Fukushima Godzilla attack.
We've changed our minds. The Svanstroms surely found a cursed monkey's paw at some point. This has "wish gone ironically wrong" written all over it.
A Chicago Resident Is Drafted By Saddam Hussein
US Army
The U.S. Army never disclosed this poor unfortunate soul's name, and he's probably not eager to be associated with this ordeal, so we'll call him Darnit. On August 2, 1990, Chicago-based college student Darnit was visiting family in his native Baghdad when Saddam Hussein invaded Kuwait. Before Darnit could get out of the country, he was caught up in the slapdash mass drafting of Iraqi men and sent off to war. Shockingly, Hussein did not accept "I'm only here on vacation" as a legitimate get-out-of-army card.
Iraqi Armed Forces
Vacation, don't care you wanted
Vacation, you are here to stay
Fast-forward six months, and the American armed forces are in Kuwait beating the Iraqi Army like the first level of Pac-Man. The U.S. Navy and Air Force bombarded the everloving shit out of the occupied Kuwaiti Island of Qurah, and then sent some Navy SEALs ashore to mop up. Darnit became one of the first POWs of the Gulf War when he ran up to those Navy SEALs (while literally wearing a T-shirt and Bermuda shorts) and said, "Where have you guys been? We've been waiting for you!" in a heavy Chicago accent.
Buster7/Wiki Commons
To further represent him, here's a photo of Wrigley Field.
After checking their GPS a few times to make sure they'd landed in the right place, they sent Darnit to an American prison camp, which is where he ran into a sergeant he knew from Illinois. They had the most awkward "What have you been up to" conversation in history. It's unclear what ultimately happened to Darnit, but this whole "war in the Middle East" thing has gone so smoothly, so we're sure he's fine.