Whether you're a parent, a babysitter, or the dead-eyed teenager in the IKEA playroom, it can be hard to know what movies are appropriate to show to kids. Violence and big-boy language and huge bare asses can show up in almost any film, and even movies supposedly meant for kids can have some extremely messed-up stuff going on. For example ...
Beethoven

Ends With Medical Horror
Universal Pictures
Beethoven tells the story of an enormous St. Bernard and the family of tiny people who ride around on him.
Universal Pictures
Wait, no, that's just the poster. We were wrong when we said that earlier thing.
Basically, it's promised to be a fun kids' movie, with conflicts hinging mainly on sofa-ruining. And it is! At least until the final act.
The Horrifying Scene:
Beethoven actually has a villain: an evil veterinarian who conducts illegal experiments on animals. The vet becomes obsessed with kidnapping Beethoven, and even goes so far as to orchestrate a fake bloody attack so he can confiscate the enormous beast.
Universal Pictures
"Yes, my blood does look like food coloring. What of it?"
Eventually, the family figures out the truth and tracks down the doctor in his filthy animal murder den. There, they discover that he's not only a crooked vet, but also a gun-wielding vet, as he demonstrates when he very nearly murders the dad. He's only stopped when the dog from Frasier bites him in the penis.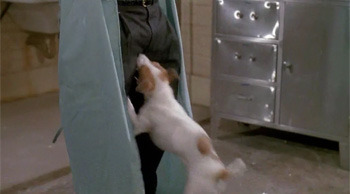 Universal Pictures
"Tossed Salad Chewed Sausage And Scrambled Eggs"
That's violent, but also hilarious and heartwarming, so it's fine. Rather less heartwarming is when the kids crash the family station wagon into the lab, hitting the table full of sharp, precariously positioned syringes ...
Universal Pictures
... directly into the evil vet's chest.
Universal Pictures
"This is pleasant compared to the dick thing ..."
That would be an intense scene in a Cronenberg movie, let alone a movie whose advertising featured a dog eating a drumstick.
Agent Cody Banks

Ends With Hilary Duff Committing A Grisly Murder
MGM
Agent Cody Banks is what happens when you take James Bond (a character famous for killing, drinking, and casual misogyny) and rewrite him as a child. It's the cute story of a 15-year-old who battles international terrorists despite the handicap of being unable to drive a car, talk to girls, or vote -- say, for a president who doesn't put minors into combat situations.
MGM
Geneva Convention violations the whole family can love.
The Horrifying Scene:
Like most James Bond movies, the final showdown takes place in a giant and curiously well-staffed secret base. Unlike most James Bond movies, it ends with a teenage girl murdering someone.
While Cody Banks is dealing with puberty and also the villain's henchmen, Hilary Duff, portraying the daughter of a famous scientist, decides to take out the villainous Ian McShane. Duff, hair windblown to the point where she's in serious danger of selling us shampoo, approaches McShane and shoves an ice cube filled with nanobots down his throat ...
MGM
... and the nanobots proceed to eat him alive from the inside out.
MGM
"Can I make a 'He chose poorly' quip, or are we only allow to rip off one franchise at a time?"
To reiterate, she's not a secret agent. She's just some kid. And, aside from the fact that no government agency should ever give a random teenage girl the power to kill someone at their own discretion (they would do it all the time), what's the psychological impact of this going to be for her? Years of crying and night sweats? Do you get a half day at school for turning someone inside out?