Movies like The Martian and shows like The Expanse are proof that our collective space euphoria is being revitalized. Why, even possible supervillain Elon Musk has announced his intention to colonize Mars -- almost certainly to build some kind of enormous bowel disruptor. But there are problems with interplanetary colonization that sci-fi doesn't warn you about. For example ...
You'll Either Suffocate Or Get Super Cancer
NASA
In shows like Star Trek and Firefly, humans generally have no trouble running around on different planets in nothing but suspenders and unitards. This makes for more exciting phaser battles, but in reality, even if we reach the stage of colonizing the galaxy and warping from one planet to the next, we're not exactly going to be dressed for comfort.
The atmosphere on Earth at sea level contains 20.9 percent oxygen. By astounding coincidence, the ideal amount of oxygen in the atmosphere for human survival is also around 20.9 percent. Any less, and we start having problems.
NASA
"Pussies."
Hell, we can't even go everywhere on Earth. Try climbing a large mountain without an oxygen supply. For reference, the U.S. Dept. of Labor's OSHA defines 19.5 percent oxygen content as the minimum safe concentration for humans. So, beyond the very unlikely event that your alien planet has a size and atmosphere practically identical to Earth, you're going to spend your whole holiday in a space suit or tightly controlled habitat.
That definitely applies to Mars, which has a pressure less than 1 percent of that on Earth and an atmosphere that is 95 percent carbon dioxide. While your eyes probably won't go all Rodney Dangerfield and explode like in Total Recall, you're never going to be able to flounce around in a loincloth like in John Carter.
Walt Disney Pictures
And if you can't wear a loincloth on Mars, really, what's the point?
Of course, in Firefly they explain this away by mentioning that all these planets have been terraformed to harbor an Earth-like atmosphere. But that's probably not a likely solution either -- the kind of atmosphere a planet can support is dictated by many factors. In the case of Mars, you could pump all the oxygen you wanted into its atmosphere, but its gravity is so weak that oxygen will just float away into space.
Those are just a few of the factors that make alien colonies more difficult than the movies portray. The most recent example, The Martian, pulled no punches in showing what an absolute bitch of a time you would have trying to live on Mars. But even the author of the novel admitted that he had to ignore a few scientific facts to make it work -- namely, the fact that radiation is so high on Mars that Matt Damon would be dead from cancer in a matter of months. We assume that ending wouldn't have tested as positively in early screenings.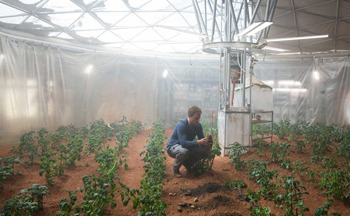 20th Century Fox
No audience wants to see Matt Damon jimmy-rigging chemo drugs from his own poop.
Living On Multiple Planets Will Create A New Set Of Legal Issues
JanPietruszka/iStock/Getty Images
If interplanetary colonization ever becomes plausible, we're going to have to revise everything we know about land and property law. After all, these laws currently operate on the basis that every inch of available land on the planet is owned by somebody. The moment someone establishes a permanent colony on another hunk of celestial rock, it's the goddamn Wild West all over again.
moodboard/moodboard/Getty Images
Though the prospect of being Chief Space Justice on the Galactic Supreme Court
would send law school enrollment through the roof.
The Martian makes a point of this when Matt Damon's character remarks that, technically, he's living under maritime law because he's outside of any nation's established borders. And he's pretty much right, because human law has yet to establish any rules for what happens beyond the seven known continents, and until Atlantis is discovered, that's pretty much it for the age of exploration.
There are international treaties that address the space issue, and they currently dictate that no nation can claim any land or resources beyond Earth. But that of course relies on the presumption that we're not leaving Earth's atmosphere anytime soon for any purpose but to take some cool photos of Pluto, some soil samples from Mars, or to land a probe on a comet on a drunken dare.
Chip Somodevilla/Getty Images News/Getty Images
"The United States cannot claim ownership of the moon."
"Hey Vladimir, we're willing to share the land; just show us where you planted your flag ...
Oh, that's right. *mic drop*"
Robert Heinlein's sci-fi novel Stranger In A Strange Land explores the legal ramifications of human beings landing on another planet and how the law is currently ill-equipped to handle who owns what outside of our currently Earth-centric prison. But if we're optimistic, we're probably going to need to look into establishing some Star Trek-style Galactic Federation laws.